The Paisley Stencil
Even though we most commonly think of the paisley stencil as a product of the 1960's it is in fact a droplet-shaped vegetable motif of Indian and Persian origin that has been used in many cultures for centuries.




Resembling a teardrop with a twisted tip, the kidney-shaped paisley is originally and Iranian and Indian Design. However, its western name derives from the town of Paisley, in central Scotland.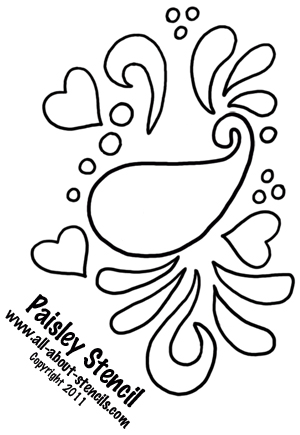 The Paisley was particularly popular during the Summer of Love in the 1960's and heavily identified with the psychedelic style which was mainly influenced by the interest in Indian spirituality and culture brought about by the pilgrimage of The Beatles to India in 1968. John Lennon had his Rolls Royce painted with the Paisley design in 1967.
Even Fender Guitars honored this design by making a Pink Paisley version of their Telecaster guitar, sticking paisley wallpaper onto the guitar bodies.
The recording artist formerly known as Prince paid tribute to the Rock and Roll history of the Paisley when he founded the Paisley Park Records Recording Label and established Paisley Park Studios, both named after his 1985 song "Paisley Park".
Enjoy this simple paisley stencil in any of your projects of Stencil Art. If you find yourself looking for more ideas for creating look at the many Free Stencils that we have to offer.
By the way, I think that you may be interested in the Graffiti Art Stencils too!
Hey! Don't forget that I (and everyone else) want to see what you have done with your Paisley Stencils. Just click on Stenciling Projects to get your masterpiece showcased here on this web site. Won't that be exciting! Or if you have any questions or want to share information join in on the Stencil Blog. Well, I hope to hear from you soon.
Happy Stenciling,
Penny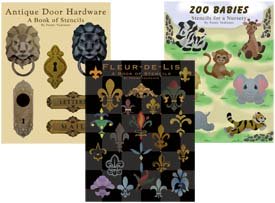 P.S. We are thrilled to introduce our selection of downloadable and printable Stencil Designs. Instant gratification at its finest! You don't need a special printer - these designs are specially formatted to print from your home computer on standard letter sized paper. Once downloaded, you will have your complete stencil booklet with patterns and instructions. Just click, buy and print!
If you'd rather get your Stencil Pattern Books in Print, then visit our Printer's Book Shop for the same designs in book format that will be mailed to you. You'll find all of the stencils used as examples throughout this site.
Would you like to build a web site like this one and turn a passion into a business? Well, if I did it, you can too! Don't think that you have to be a web designer and know all about computer codes. With Solo Build It! it's easy. They have the tools to help you create a successful web site. Want more information? Just click on Powered by Solo Build It! and watch a cool video that will explain everything. I know you'll get excited like I did.
---
Return to Home Page from Paisley Stencil.
Return to Stencil Designs from Paisley Stencil.