Cool Stencils!
So, exactly what are cool stencils? You be the judge!


Cool is an attitude, behavior, appearance or style. It's meaning is varied and changes with time and geographical location. Therefore, cool has no single meaning. That's why we have several samples of free stenciling patterns for you to recognized your cool.


Do you think a cool stencil should be an artsy image like something Picasso might paint? This stencil design works great as Graffiti Art Stencils too. But you might also be able to picture this painted on a thick canvas in black and white hanging in a traditional setting. It's all a matter of your taste and what you can make of it.
The beauty of stencil art is that you can take a simple design like this one and make it your own. By that I mean, you create the medium (paint or chalk?), you decide where to put it (on a wall, canvas, piece of furniture, pillow) and you pick the colors. Just because you are using a stencil design doesn't mean that you are not the creator of your own art.
Cool is transforming the stencil's reputation from cute craft of the suburban mom to cool hipster home-decorating tool. If you had previously encountered stencils in the form of seahorses swimming on a bathroom wall or apples forming a border around a kitchen ceiling, you may be excited about the fact that stencils could actually be cool.
If you like the idea of printing a stencil design from a web page then I hope you visit our Free Printable Stencils. We have something for all occasions, holiday and mood.
Do you like to jam? Well, here's a free guitar stencil for your music room or garage band area! It works good on T-Shirts too. Don't miss the video below for ideas on stenciling t-shirts.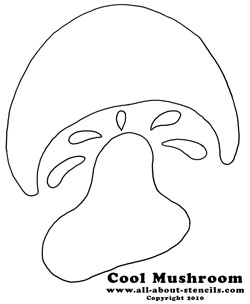 Maybe you think that cool stencils represent images that were popular in the 1960's? Like daisies and mushrooms and Peace and Love...
Well, here's the mushroom. For Peace and Love you should go to Graffiti Art Stencils where you'll find just what you are looking for and more!
By the way, are you new to working with paper stencils? If so (or even if not) you should know that you can prepare your paper stencils so that they can be used again and again. Yeah! That's right. The one you just printed can become a long term free stencil. It's easy. Do you have some of that clear, wide packing tape? Just use it to run even strips covering all of the paper surfaces before you cut out the stencil. Burnish or rub the tape down to get the air pockets out. That's it.
By the way, I like to do just the top side of the paper. If the bottom is slick it can encourage paint to bleed under the stencil and smudge your surface. The underside may get wet when you wash it but just let it dry and you can flatten it back out by storing it in a book.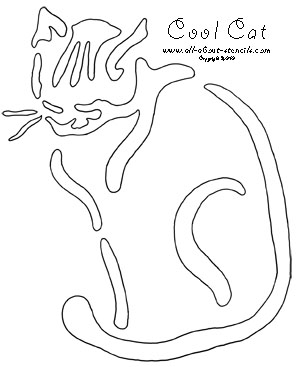 There is nothing sleeker than a cool cat! Of course, I am a cat person. This cool stencil creates an impressionists style cat image. Can't you just picture him on a throw pillow sitting on a cushy couch?
Need to know more about basic stencil painting? Stippling is simply tapping or dabbing the loaded brush throughout the stencil openings. This technique produces a more even tone and less depth.
Swirling is moving the brush in a circular, swirling motion against the openings. This technique produces an effect of depth because more color will be along the edges of the openings and the centers will appear lighter. I always think of the swirling technique if you are trying to produce a finished image that has a worn down, vintage look.
If you are new to stenciling you should go to How To Stencil.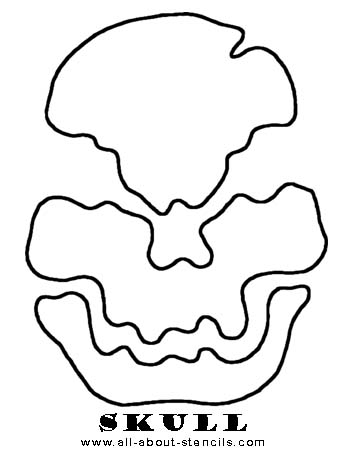 Maybe a skull is your ticket! Rough and dangerous? No Fear? No Problem! Here is a cool stencil of a skull. He should fit nicely into your collection.
By the way, he comes from our collection of Free Halloween Stencils. You should check those out since this seems to be your bag. And even if it isn't (your bag), he may come in handy at Halloween to scare away all the little ghost and goblins that come knocking for their tricks or treats.
Working with paper stencils has a few advantages. You can adjust the size of your paper stencil to fit the size of your project. Just take the page to a copier and reduce or enlarge. Then cut out the stencil openings. It's that easy.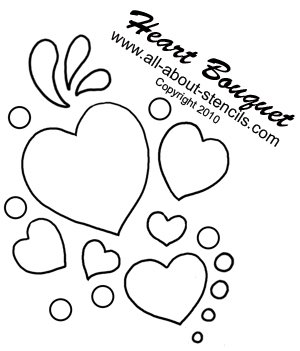 Hearts and Love more your style? Well, if so then you want to check out the Free Valentine Stencils for more love related free stenciling patterns and stencils.
One more that I think most would consider cool stencils - Trompe Loeil Stencils. These are those quirky little painted images that make people think that there really is a fountain hanging on the wall or a bee sitting on the table.
I've heard that, "Stencils are cool tools for the hipster set." The truth is that I'm not sure who is in the hipster set and just what they might find cool. I just hope I'm not going to start calling everyone dude.
Hey! Don't forget that I (and everyone else) want to see what you have done with your cool stencils. Just click on Stenciling Projects
to get your masterpiece showcased here on this web site. Won't that be exciting! Or if you have any questions or want to share information join in on the Stencil Blog. Well, I hope to hear from you soon.
Happy Stenciling,
Penny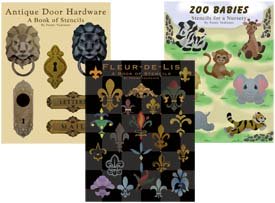 P.S. We are thrilled to introduce our selection of downloadable and Printable Stencils. Instant gratification at its finest! You don't need a special printer - these designs are specially formatted to print straight from your home computer on standard letter sized paper. Once downloaded, you will have your complete stencil booklet with patterns and instructions. Just click, buy and print!
If you'd rather get your Stencil Pattern Books in Print, then visit our Printer's Book Shop for the same designs in book format that will be mailed to you. You'll find all of the stencils used as examples throughout this site.
Would you like to build a web site like this one and turn a passion into a business? Well, if I did it, you can too! Don't think that you have to be a web designer and know all about computer codes and complicated html stuff. I didn't. With Solo Build It! it's easy and they have the tools in place to help you build pages and teach you how to create a successful web site. Want more information? Just click on Powered by Solo Build It! and watch a cool video that will explain everything. I know you'll get excited like I did.
Wait! Wait! Here's that video I promised you. You can find the stencil at Eagle Stencil. Enjoy!
---
Return to Home Page from Cool Stencils.
Return to Stencil Designs from Cool Stencils.