Free Pineapple Stencil!
The pineapple is a symbol of hospitality. Here is a free pineapple stencil for you to craft into your home decor and welcome all who come!


Just right click on the stencil and select print or save if you're on a PC or drag it into a document if you're on a MAC.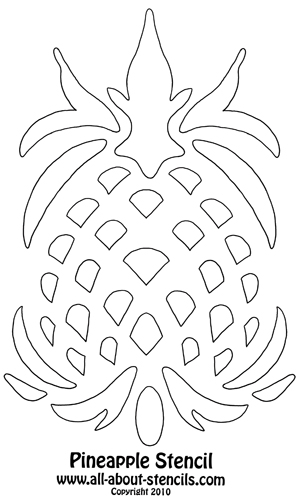 The pineapple has served as both a food and a symbol of hospitality throughout the history of the Americas. The image of the pineapple has come to express the sense of welcome, good cheer, human warmth and family affection inherent to gracious home gatherings.
Below is a video about stenciling on floors. You might consider using this stencil on your flooring so check it out!
I designed this pineapple stencil for you! Throughout this web site you will find many Free Stencils from a large variety of styles. It is my intention to get you motivated to create art with stencils!
Pineapple as Architectural and Artistic Motif -
It is hardly surprising that this symbol of friendship and hospitality also became a favorite of architects, artisans and craftsmen throughout the American Colonies. The hospitality of a mansion was displayed with carved wood or molded mortar pineapples on its main gate posts.
It's easy for anyone to put custom hand painted images like this pineapple stencil on walls or where ever it is desired with the use of Stencil Designs.

The first encounter between a European and a pineapple occurred in November, 1493, when Christopher Columbus, lowered anchor in a cove off the lush, volcanic island of Guadaloupe and went ashore. There, amidst parrot-flecked jungle foliage and wooden pillars spiraled with serpent carvings, his crew came upon piles of freshly gathered vegetables and fruits, including pineapples.
I hope you find a place for this pineapple in your home and enjoy the pleasure it brings to you and your guests!
Please take the time to view some of out other Stenciling Ideas and projects.
And hey! Don't forget that I (and everyone else) want to see what you have done with your Pineapple Stencil. Just click on Stenciling Projects
to get your masterpiece showcased here on this web site. Won't that be exciting! Or if you have any questions or want to share information join in on the Stencil Blog. Well, I hope to hear from you soon.
Happy Stenciling,
Penny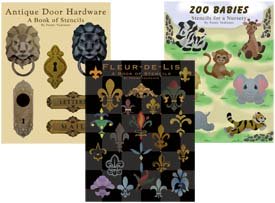 P.S. If you're looking for Stencils (like these), that you can open at your computer and print now or save (No waiting on the Mail Man), just check out our Stencils Catalog for your next project.
If you'd rather get your Stencil Pattern Books in Print, then visit our Printer's Book Shop for the same designs in book format that will be mailed to you. You'll find all of the stencils used as examples throughout this site.
Here's a video about Stenciling Floors. You may find a few ideas about how the pineapple stencil can decorate wood or concrete. Enjoy!
Would you like to build a web site like this one and turn a passion into a business? Well, if I did it, you can too! Don't think that you have to be a web designer and know all about computer codes and complicated html stuff. I didn't. With Solo Build It! it's easy and they have the tools in place to help you build pages and teach you how to create a successful web site. Want more information? Just click on Powered by Solo Build It! and watch a cool video that will explain everything. I know you'll get excited like I did.
---
Return to Home Page from Pineapple Stencil.
Return to Free Stencils from Pineapple Stencil.