Angel Stencil Designs!
These angel stencil designs and stenciling ideas are great for the holidays or year round.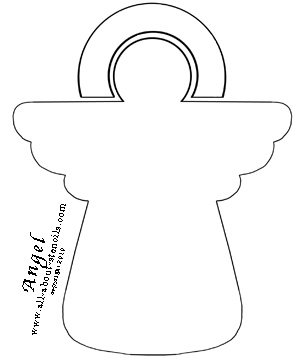 First we have a couple of free stencils and then (scroll down) I designed a couple of books of Angels and Cupids. The books can be downloaded at your computer now or you can get one in print. These designs are more detailed than the ones here.
I used this angel stencil to create holiday place cards for the table at Christmas. See how at Christmas Art Projects. Below are two of the projects where these stencils were used.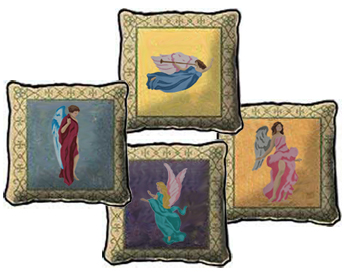 The elegant angel stencils were painted onto these pillows. If you know how to do needlepoint they can be used that way too.
Do you know that stencils can be used for so much more than just dabbing paint through the openings? Well, I would like to show you how I made a Place holder that you can use for your Holiday seating arrangement. Get the details at Christmas Art Projects.


This jewelry box was just a plain wooden box that I found at a flea market for a couple of dollars. I painted it sky blue and a few wisps of white for clouds set the background for the little cherub stencil.
By the way, these are part of our Free Stencils Collection. We have so many to offer that they are scattered throughout this web site so keep browsing the pages and come back here for all your Stenciling Ideas .
Just right click on the free stencil and select print or save if you're on a PC or drag it into a document if you're on a MAC. Also, I like to cover the paper with a protective coating like clear shelf liner before I cut out the openings. This way I can use the stencil again and again.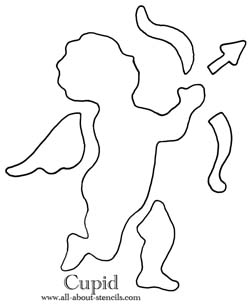 This cupid stencil (from our free Valentine Stencils Collection) will make great cards for Valentines Day, Anniversaries or any other special occasion. For more ideas on using stencils to make cards go to Card Making.
We are thrilled to introduce our selection of downloadable Stencil Designs. Instant gratification at its finest! You don't need a special printer - these designs are specially formatted to print straight from your home computer on standard letter sized paper. Once downloaded, you will have your complete stencil booklet with patterns and instructions. Just click, buy and print!
Below are the two books of the above featured projects. Each book will come to you as a downloadable pdf file in your e-mail. Just check your e-mail after purchase for the link to connect to your file and print or save. It's that easy!
All designs can be adjusted to fit your project size. Instructions are included. Pages are 8.5" x 11".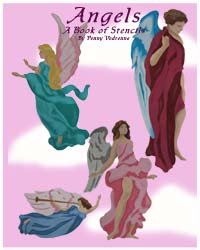 Angels: A Book of Stencils
This collection includes 4 designs- Angel in Thought, Young Angel, Angel with Trumpet and Guardian Angel.
This purchase is of a PDF file with 32 pages.
Price: $9.95
To get this book in print for just $19.95 click here:
Cherubs: A Book of Stencils
This collection includes 4 designs- Daydreaming Cherub, Watching Over You Cherub, Welcoming You Cherub and With All My Heart Cherub.
This purchase is of a PDF file with 36 pages.
Price: $9.95
To get this book in print for just $19.95 click here:
Hey! Don't forget that I (and everyone else) want to see what you have done with your angel stencil designs. Just click on Stenciling Projects
to get your masterpiece showcased here on this web site. Won't that be exciting! Or if you have any questions or want to share information join in on the Stencil Blog. Well, I hope to hear from you soon.
Happy Stenciling,
Penny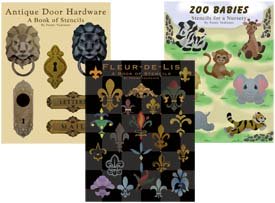 P.S. If you'd rather get your Stencil Pattern Books in Print, then visit our Printer's Book Shop for the same designs in book format that will be mailed to you. You'll find all of the stencils used as examples throughout this site.


Would you like to build a web site like this one and turn a passion into a business? Well, if I did it, you can too! Don't think that you have to be a web designer and know all about computer codes. With Solo Build It! it's easy. They have the tools to help you create a successful web site. Want more information? Just click on Powered by Solo Build It! here and watch a cool video that will explain everything. I know you'll get excited like I did.
---
Return to Home Page from Angel Stencil.
Return to Christmas Crafts from Angel Stencil.