Free Teddy Bear Stencil
Preparing for a new arrival or making a gift for a new mother? Here's a cute Teddy Bear Stencil and a few crafty ideas for you. And the stencil is free!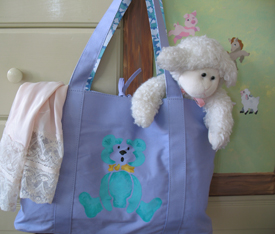 For crafters like us, a new arrival is a great time to start creating and designing. We know that with our fantastic minds we can produce some awesome one-of-a-kind items for either our own children or gifts for our close friends or family.
Here is a cute teddy bear stencil (scroll down for your free stencil) for you to use in your arts and crafts. As you see, I used him on a tote bag for a friend.
I found this tote bag at a discount department store for $4.99 (you can't beat that can you). In fact, they had two so I bought them both. With the other one I created a Beach Bag by painting a Dolphin Stencil on the front. Scroll down to watch a video of this. It's so much like the teddy bear stencil bag!
The Teddy Bear Stencil Diaper Bag is hanging from a Baby Armoire that I picked up at a Flea Market and redecorated with some Farm Stencils (I hope you can see them). See below for the book of stencils that they came from. But for a full size photo of the Baby Armoire go to Furniture Painting. You'll find some good tips there too!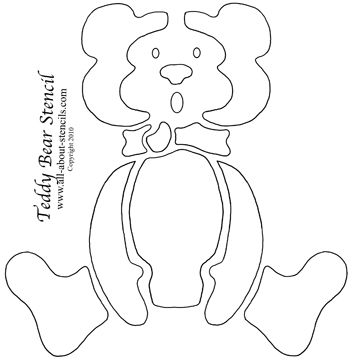 As you can see from the photo, I painted the teddy bear stencil with a green color for the bear. With stencils you are the designer so you're not restricted to any color. I used green because the fabric liner of the bag has a green, lavender and white pattern. Also, my friend doesn't know if it's a boy or girl so green will work either way.
Once I had the teddy bear stencil painted on the bag, I added a few personal touches. I painted over the eyes, nose and mouth with black so the face pops. Then I added some highlights and shadows with greens one tone darker or lighter than the base green color. Finally I painted the bow collar in yellow.
As I always say, stencils help us get a picture in place. From there you have the outline to paint. It's easy.
Are you new to working with paper stencils (or free stencil patterns you can print like this teddy bear stencil)? If so (or even if not) you should know that you can prepare your paper stencils so that they can be used again and again. Do you have clear, wide packing tape? Just use it to run even strips covering all of the paper surfaces before you cut out the stencil. Burnish or rub the tape down to get the air pockets out. That's it.
For more on working with paper stencils see our article on Stencil Downloads.

If you think you are going to become a downloadable stencil fanatic then get yourself some clear shelf liner paper to cover your stencils before cutting them out. It's so much easier and it's really not expensive at all. You'll love the ease this provides.
By the way, I like to do just the top side of the paper. If the bottom is slick it can encourage paint to bleed under the stencil and smudge your surface. The underside may get wet when you wash it but just let it dry and you can flatten it back out by storing it in a book.

Working with paper stencils has a few more advantages. You can adjust the size of your paper stencil to fit the size of your project. Just take the page to a copier and reduce or enlarge. Then cut out the stencil openings. It's that easy and you can't do that with a plastic stencil.
We are thrilled to introduce our selection of downloadable and printable stencils. Instant gratification at its finest! You don't need a special printer - these designs are specially formatted to print straight from your home computer on standard letter sized paper. Once downloaded, you will have your complete stencil booklet with patterns and instructions. Just click, buy and print!
The books below have popular Nursery Stencils and themes. Each book will come to you as a downloadable pdf file in your e-mail. Just check your e-mail after purchase for the link to connect to your file and print or save. It's that easy!
All designs can be adjusted to fit your project size. Instructions are included. Pages are 8.5" x 11".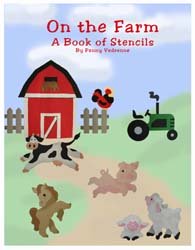 On the Farm
With these stencils you can create the perfect barn yard setting for your little one. This collection includes 9 designs- a Cow, a Chicken, a Pig, a Sheep, a Lamb, a Horse, Fence, a Barn and a Tractor.
This purchase is of a PDF file with 40 pages.
Price: $9.95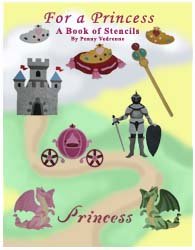 For a Princess
This collection includes 7 designs- Royal Carriage, Knight in Shining Armor, Castle, Dragon, Sceptre, Tiara and Pillow plus the word "Princess."
This purchase is of a PDF file with 40 pages.
Price: $9.95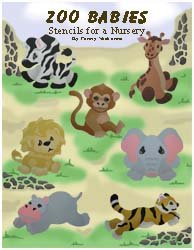 Zoo Babies: Stencils for a Nursery
This collection includes 7 designs- an Elephant, a Giraffe, a Hippo, a Lion, a Monkey, a Tiger and a Zebra.
This purchase is of a PDF file with 40 pages.
Price: $9.95
And hey! Don't forget that I (and everyone else) want to see what you have done with your Teddy Bear Stencil. Just click on Stenciling Projects to get your masterpiece showcased here on this web site. Won't that be exciting! Or if you have any questions or want to share information join in on the Stencil Blog. Well, I hope to hear from you soon.
Happy Stenciling,
Penny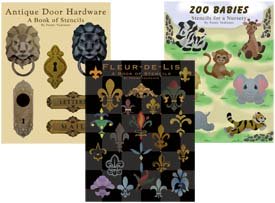 P.S. If you'd rather get your Stencil Pattern Books in Print, then visit our Printer's Book Shop for books like these or the ones above that will be mailed to you. You'll find all of the stencils used as examples throughout this site.
Would you like to build a web site like this one and turn a passion into a business? Well, if I did it, you can too! Don't think that you have to be a web designer and know all about computer codes and complicated html stuff. I didn't. With Solo Build It! it's easy and they have the tools in place to help you build pages and teach you how to create a successful web site. Want more information? Just click on Powered by Solo Build It! and watch a cool video that will explain everything. I know you'll get excited like I did.
Well, here's that great video I promised you. Enjoy!
---
Return to Home Page from Teddy Bear Stencil.
Return to Crafts For Kids from Teddy Bear Stencil.