Try this Free Trompe L oeil Stencil
Stenciling with a free trompe l oeil stencil and a few Faux Painting Stenciling techniques is a fun way to add those little personal touches and details to your home without installing expensive antique hardware.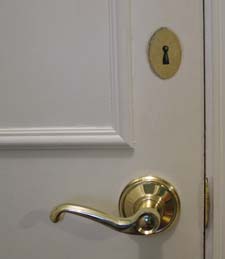 This page offers you a free tromp l oeil stencil to get your feet wet with the joy of painting in this fun style. Just follow along because all of the how to instructions are right here. I've also added a video so you can follow along with me step by step with this trompe l oeil project.
The free trompe l oeil stencil on this page is a two layer design. Print this pattern twice (one you will cut out the oval for the first layer and the second layer you will cut out only the keyhole).
Before you cut out the images, I recommend that you cover each page with a clear protective coating like clear shelf liner or even strips of packing tape with each strip closely overlapping the last. The idea here is to preserve your stencil for multiple or permanent use.
By the way, don't miss all the other fun Free Stencils we have for you. You'll find a list of them on the right.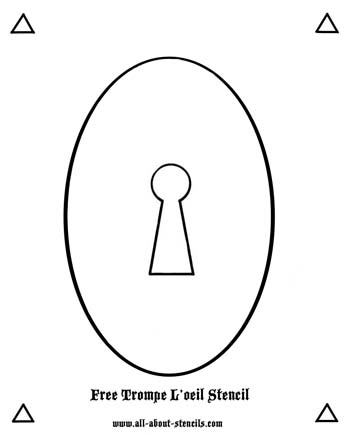 On one page cut out the oval and all four triangles in each corner. On the other page cut out the key hole and all four triangles. The oval will be your first overlay stencil to be painted and then the keyhole will be painted on top.
Line up the oval stencil (first overly of the free trompe l oeil stencil) on the door where you want to paint the key bow and tape the corners or at least the top and bottom. With a pencil, mark in the triangles at each corner. Tip: before you tape down the bottom of the stencil, place four pieces of masking tape on your surface to be painted in the areas of the triangles. Then mark your triangles on the tape. This way when your painting is finished you can just remove the tape and your alignment marks go away.
Paint in the oval. I used two different gold tones - Antique Gold and Inca Gold. I always find that using two colors gives an object more dimension. It may take two or more layers of paint to get the right color.
Remember that in stenciling you always want to use a dry brush with a stippling (up and down) motion. So, less paint may require more coats. That's OK because trying to glob on a thick layer of paint in one coat will cause a running, smearing mess.
Hint: If you find that the paint is not adhering to the surface very well then you may need to lightly sand the area before continuing. If the area has a glossy finish or a smooth surface it may not absorb new paint.
When the gold paint is thoroughly dry, remove the stencil for the oval, place the keyhole stencil (second overlay of the free trompe l oeil stencil) in place - remember to line it up with the triangles - and tape it down. Stipple on black paint in the keyhole opening. This shouldn't take too many coats since black covers well. When the paint dries, remove the stencil.
Now you are ready to add the finishing touches to your free trompe l oeil stencil painting. Observe the lighting in the area where you painted the key bow and run shadows or highlights accordingly. I always use the door knob as a guide - where is the shadow for the door knob?
Oh yeah! Don't forget to remove your alignment triangles.
It's great to see it in action so join me in this video as I paint this free trompe l oeil stencil on a door!


Stencils are a great way to start any project because they get the basic outline of an object in place for you. Personally, I find it hard if not impossible to swipe a brush through paint and get a nice free hand asymmetrical painting. For a Trompe L oeil effect getting the size, proportions and shape right is essential therefore stencils are the perfect tool to start with.
If you can't find a stencil for the trompe l oeil image you want to create then make one. It's not that hard. If you can find a photo of what you want, them trace using a thin tracing paper and break it down into layers for the level of detail you want. For more information on how to do this visit Make Your Own Stencil for all the details.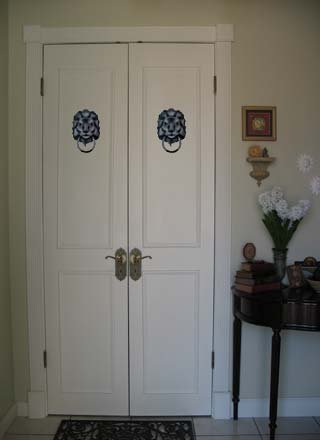 Ready for another trompe loeil project? Well, you'll be amazed at what you can do with a little paint and some stencils. These doors were transformed from plain dark brown stained doors to this! Follow along as I tell you how it was done with Trompe Loeil Stencils. I truly hope that you give this project a try and I hope you get inspired to create more art with trompe l oeil stenciling.
And hey! Don't forget that I (and everyone else) want to see what you have done with your free trompe l oeil stencil (or any of your stenciling hobbies for that matter). Just click on Stenciling Ideas to get your masterpiece showcased here on this web site. Won't that be exciting! Or if you have any questions or want to share information join in on the Stencil Blog. Well, I hope to hear from you soon.
Happy Stenciling,
Penny
P.S. If you are ready to start a New Trompe L oeil Project now then here is one of the books from our catalog that you might find interesting.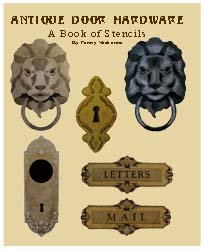 Antique Door Hardware: A Book of Stencils
This collection includes 5 designs- Lion Head Door Knocker, Key Bow, Lock Plate and Mail Box Plaque (with two word options). These images should add a little Trompe l oeil fun and even some humor to the doors in your home while they introduce a touch of the past. This purchase is of a PDF file with 25 pages. Each book will come to you as a down-loadable pdf file in your e-mail. Just check your e-mail after purchase for the link to connect to your file and print or save. It's that easy!
All designs can be adjusted to fit your project size. Instructions are included. Pages are 8.5" x 11".
Price: $9.95
To get this Book in Print for just $19.95 click here: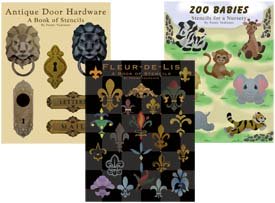 Pssst! If you would rather get your Stencil Pattern Books in Print (like these), then visit our Printer's Book Shop. You'll find all of the stencil designs used as examples throughout this site.
Would you like to build a web site like this one and turn a passion into a business? Well, if I did it, you can too. Don't think that you have to be a web designer and know all about computer codes and complicated html stuff. I didn't. With Solo Build It! it's easy and they have the tools in place to help you build pages and teach you how to create a successful web site. Want more information? Just click on Powered by Solo Build It! and watch a cool video that will explain everything. I know you'll get excited like I did.
---
Return to Home Page from Free Trompe L oeil Stencil.
Return to Trompe Loeil from Free Trompe L oeil Stencil.