Faux Painting Stenciling
Faux painting stenciling is a fun way to add an interesting element to any environment. And it's so easy with stencils.




Stencils are a brilliant solution for those of us who love to paint and create but are not quite comfortable enough to hand paint images in place.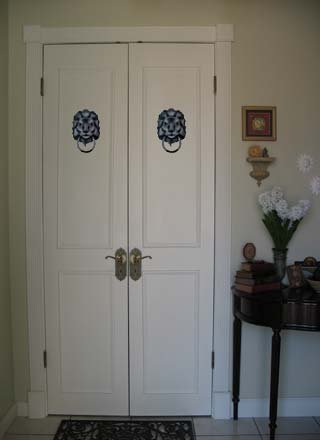 Stencils come in so many different designs that it's easy to find the image for faux painting stenciling that you have in mind or maybe just by browsing what's out there you might get inspired by one you see. Either way, it's so much fun to create images on the walls or furniture or whatever that will fool the eye into thinking it's a real object.
Here are a couple of doors that have been transformed from plain brown stained foyer doors to a welcoming surprise. Read more about this project and how you too can spruce up the doors in your home at Trompe Loeil Stencils where you'll find all the details and I hope some inspiration.


Here is another example of what you can do to invite a touch of the past to your doors. This is a very simple stencil and best of all it's free for you to try out working with faux painting stenciling patterns at Trompe Loeil Free Key Bow.
The Key Bow is a part of all the doors in old houses so if you're interested in adding a little character or some interest in your home, try this little stencil and I think you'll be motivated to paint much more with faux painting stenciling. Which brings us to our next project that will hopefully motivate you from a very small painting to a very large Wall Mural.
As you'll soon come to see, faux painting stenciling can be very small or very large. You can paint an ant on a table top or you can paint a full size garden on a wall. It's up to you - you are the designer.
Pssst! Don't miss the video below!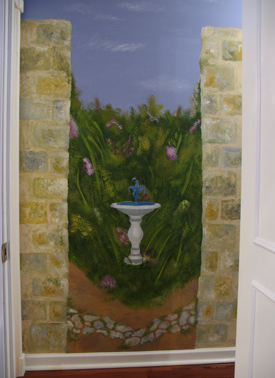 So as you see, you can use stencils to add a tiny painted image or cover a whole wall like this. I know it looks like a large project but actually it was started and finished in one weekend. The stencils make it easy and at Stencil Wall Murals you'll find a great video so that you can follow along with the whole process.
We are thrilled to introduce our selection of downloadable and printable Stencil Designs. Instant gratification at its finest! You don't need a special printer - these designs are specially formatted to print straight from your home computer on standard letter sized paper. Once downloaded, you will have your complete stencil booklet with patterns and instructions. Just click, buy and print!
The books below include Faux Painting Stenciling Patterns. Each book will come to you as a down-loadable pdf file in your e-mail. Just check your e-mail after purchase for the link to connect to your file and print or save. It's that easy! Click on any Book Cover Image for Project Ideas.
All designs can be adjusted to fit your project size. Instructions are included. Pages are 8.5" x 11".
If you'd rather get your Stencil Books in Print, just click the blue button below each book.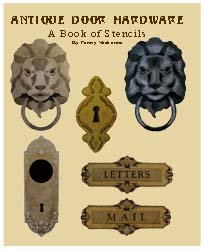 Antique Door Hardware: A Book of Stencils
This collection includes 5 designs- Lion Head Door Knocker, Key Bow, Lock Plate and Mail Box Plaque (with two word options). These images should add a little fun and even some humor to the doors in your home while they introduce a touch of the past. This purchase is of a PDF file with 25 pages.
Price: $9.95
To get this Book in Print for just $19.95 click here: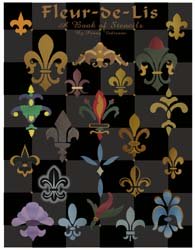 Fleur de lis: Book of Stencils
This collection includes 22 designs. Ten are easy single overlay. Six have 2 overlays and six have 3 overlays. Maybe you haven't thought of using the Fleur de lis in your Holiday Crafts but I hope you reconsider. It's a classic design that lends itself well to the season!
This purchase is of a PDF file which has 63 pages.
Price: $9.95
To get this Book in Print for just $19.95 click here: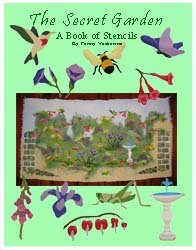 The Secret Garden
Create your own private garden retreat with this mural stenciling collection which includes 12 designs including 4 animal stencils -fountain, bleeding heart, iris, bee, butterfly, foxglove, grasshopper, hummingbird, trumpet flower, morning glory, stone wall and stove path.
This purchase is of a PDF file with 51 pages.
Price: $9.95
To get this Book in Print for just $19.95 click here:
Hey! Don't forget that I (and everyone else) want to see what you have done with fuax painting stenciling. Just click on Stenciling Projects to get your masterpiece showcased here on this web site. Won't that be exciting! Or if you have any questions or want to share information join in on the Stencil Blog. Well, I hope to hear from you soon.
Happy Stenciling,
Penny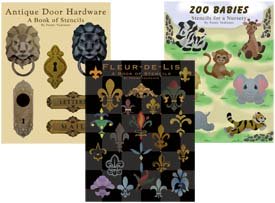 P.S. If you'd rather get your Stencil Pattern Books in Print, then visit our Printer's Book Shop for the same designs in book format that will be mailed to you. You'll find all of the stencils used as examples throughout this site.
Would you like to build a web site like this one and turn a passion into a business? Well, if I did it, you can too! Don't think that you have to be a web designer and know all about computer codes. With Solo Build It! it's easy. They have the tools to help you create a successful web site. Want more information? Just click on Powered by Solo Build It! and watch a cool video that will explain everything. I know you'll get excited like I did.
Here's that video I promised you. Enjoy!
---
Return to Home Page from Faux Painting Stenciling.
Return to Stenciling Ideas from Faux Painting Stenciling.