With Trompe Loeil Stencils You Can Paint Character into Any Door
This project uses Trompe Loeil Stencils (available in a book below) to dress up a pair of Coat Closet Doors in a Foyer. Believe it or not, when these doors started out they were plain brown stained doors with no adornment.


This page may feature stencils painted on doors but don't stop there. These are great stencils to put anywhere - furniture, floors and especially as wall painting stencil designs.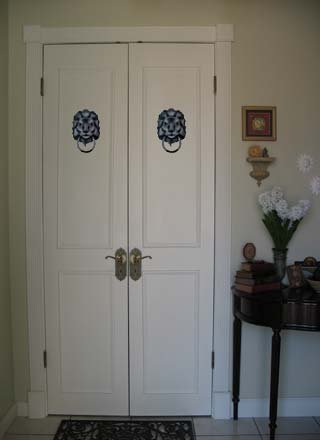 Trompe Loeil, (French for 'trick the eye'), is an art technique involving realistic imagery in order to create the optical illusion that the objects appear in three dimensions, instead of actually being a two-dimensional painting.
Now, on to the project at hand to create stenciling art! First, thin strips of molding were glued in squares to give the illusion that the doors have inset panels (similar to old fashioned doors) and then painted white. It's best to pull the doors down, remove all the hardware and work on them lying across a flat surface. I had them stretched across a couple of saw horses in the garage. You'll find when gluing the wood molding down you will have a few areas that want to rise away from the surface.
Carefully weigh these areas down with heavy items like tools or old books (whatever you can find that won't get ruined if it gets a little glue on it). As I said above, I glued the wood down and then painted. I did it this way because the paint fills in the creases and seams between the wood and gives it more of a timeless look. You'll find that this step alone can bring so much more class to a room, but wait that's just the start…
I added Lock Plates behind each door knob and a couple of Lion Head Door Knockers for fun using some faux finish stencils. I left the doors lying flat because it was so much easier to work that way. Also, you don't have a door swaying back and forth while you are trying to paint. That could be a mess.
Each of these stencils had three overlays (see below for more information). They came from a book of stencils so I traced them onto Vellum Sheets for a re-useable stencil set and cut them out. I know this is more work but don't shy away from using paper stencils from a book because they have many advantages. First of all, you can adjust the size of these images to fit your project scale very easily. To learn more, go to Cutting out Stencils for decorative painting and then don't miss the ideas on Stencil Making Design Tips for Long-Term Use. You'll find so many new ways to be creative!
Then it's on to the stenciling and painting. Line up your stencils where you want them and start adding the paint. For more on the basic techniques of stenciling visit How To Stencil. There you'll find out more about the stippling technique and ways to keep paint from smearing under the stencil. You'll also find information on using multiple layer stencils.
When you are all finished, hang your doors back up, stand back and admire!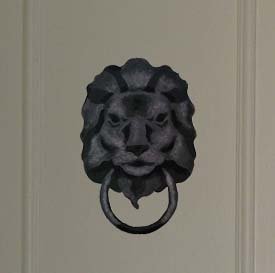 Here is a close up of the painted Lion Head Door Knocker Trompe Loeil Stencils.
First, notice the molding strips on either side of him. The shadows that they throw really do make the appearance of an inset panel. However, the focus is the Lion Head Door Knocker. Isn't he a knock out…Sorry, I couldn't resist!
I used black and gray paints to give him the look of aged iron. But gold tones would work well too. Can you picture him painted with some gold and copper tones and highlighted with a few green areas for an aged brass? Hmmmm... I'll have to try that!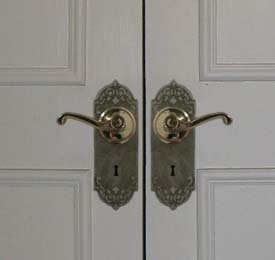 Here is a close up of the painted Lock Plate Trompe Loeil Stencil. Again, notice the door molding and the shadows they produce. It's a great effect that is so easy to create. Of course, the lock plates drive home the antique look for this set of doors.
These are two very creative craft patterns that can help you bring a sense of Old World to your room.
I hope you liked the Trompe Loeil Stencil Door Makeover Project. If you did, check out the book of stencils below. This is just a small sample of the downloadable and Printable Stencils we have to offer. Instant gratification at its finest! You don't need a special printer - these designs are specially formatted to print straight from your home computer on standard letter sized paper. Once downloaded, you will have your complete stencil booklet with patterns and instructions. Just click, buy and print!
Each book will come to you as a down-loadable pdf file in your e-mail. Just check your e-mail after purchase for the link to connect to your file and print or save. It's that easy!
Click on any Book Cover Image for Project Ideas.
All designs can be adjusted to fit your project size. Instructions are included. Pages are 8.5" x 11".
If you'd rather get your Stencil Books in Print, just click the blue button below each book.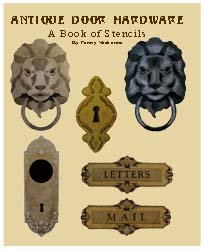 Antique Door Hardware: A Book of Trompe Loeil Stencils
This collection includes 5 designs- Lion Head Door Knocker, Key Bow, Lock Plate and Mail Box Plaque (with two word options). These images should add a little fun and even some humor to the doors in your home while they introduce a touch of the past.
This purchase is of a PDF file with 25 pages.
Price: $9.95
To get this Book in Print for just $19.95 click here: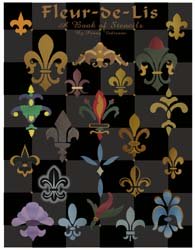 Fleur de lis: Book of Stencils
This collection includes 22 designs. Ten are easy single overlay. Six have 2 overlays and six have 3 overlays.
This purchase is of a PDF file which has 63 pages.
Price: $9.95
To get this Book in Print for just $19.95 click here: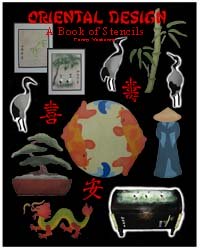 Oriental Designs: A Book of Stencils
This collection includes 16 designs- Chinese Dragon, Bamboo, Oriental Figure with Coolie Hat, Ying Yang Koi Stencils, Bonsai Tree Stencil and 3 Cranes plus 10 Chinese Symbols (Eternity, Friendship, Happiness, Harmony, Long Life, Peace, Prosperity, Tranquility, Truth and Dragon.
This purchase is of a PDF file with 40 pages.
Price: $9.95
To get this book in print for just $19.95 click here: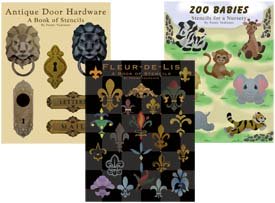 If you'd rather get your Stencil Pattern Books in Print (like these), then visit our Printer's Book Shop for a large variety of stencil collections. You'll find all of the stencil designs used as examples throughout this site.
You'll have fun creating and showing off your new doors created with trompe loeil stencils. This project should get you thinking about all of the possibilities for designing art for your home. I hope you are inspired to create some great works of art with stencils!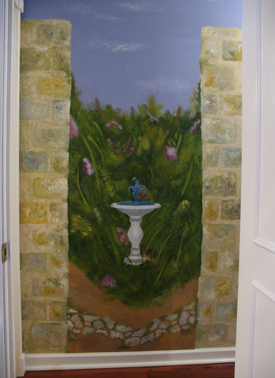 Murals are a big job but easily done with stencils. Join me on this Stencil Wall Murals adventure and watch the video of the step by step process which includes everything from painting the background to lining up the stencils.
But wait... You don't have to go anywhere else if you want more Trompe Loeil Stencils and ideas. I've added more project ideas, a free Trompe Loeil stencil for you to try and even a video for you to follow a step by step project.
Let's keep it simple. Since you are here now the video is below and you can get the free Trompe Loeil stencils at the link above. Enjoy!
After you work with Trompe Loeil Stencils awhile, I'd like to suggest that you look into using Toile Stencils in a future project. It's a very rare design for stencils but I've added a free one for you!
And hey! Don't forget that I (and everyone else) want to see what you have done with your Trompe Loeil Stencils (or any of your stenciling arts and crafts for that matter). Just click on Stenciling Project
to get your masterpiece showcased here on this web site. Won't that be exciting! Or if you have any questions or want to share information join in on the Stencil Blog. Well, I hope to hear from you soon.
Happy Stenciling,
Penny



The designs used as Trompe Loeil examples on this page are courtesy of Designs From Penny.

Would you like to build a web site like this one and turn a passion into a business? Well, if I did it, you can too. Don't think that you have to be a web designer and know all about computer codes and complicated html stuff. I didn't. With Solo Build It! it's easy and they have the tools in place to help you build pages and teach you how to create a successful web site. Want more information? Just click on Powered by Solo Build It! and watch a cool video that will explain everything. I know you'll get excited like I did.
Now here's the video I promised you. Enjoy!
---
Return to Home Page from Trompe Loeil Stencils Door Makeover.