Stencil Making Ideas and Tips!
So, you tried stencil making and were a success. There it is in front of you on paper. But now you're thinking...




...after all that work, how can I make my stencil last forever?
Wait! If I'm getting ahead of you and you are still looking for information on How To Make A Stencil, click here to find information from designing the basic single layer stencil to a detailed multiple layer stencil. Then come back here for these tips and hints!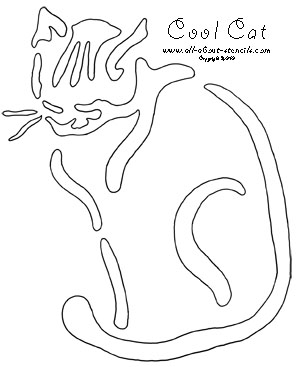 Well, before you start cutting out your stencil you may want to consider preparing it to be used more than just once or twice and there are several ways to do that. I want to share with you a few of the options that I use.
I should tell you up front that I am a serious believer in keeping it simple so if you are hoping for some hi-tech instructions you will be disappointed. So let's work our way from easiest to most professional.
I added this Cool Cat Stencil for you to practice this way of stencil making for permanent use. It comes from the many cool stencils on this web site which are free printable stencils.

The Absolute Cheapest, Easiest Way to Protect Your Stencil
I always look for the easiest way to get a job done. I also like to use what I have on hand.
Cover your paper stencil with strips of packing tape. Place your stencil flat on a non-pourous surface. Run strips of packing tape over the stencil making sure to overlap the previous strip so that the entire surface is covered. Run the tape past the edges of the paper and trim the excess with a pair of scissors.
I recommended placing your stencil on a non-pourous surface because one time I did this on the dining room table and the tape that over ran the edges of the stencil picked up some of the wood finish. It wasn't pretty.
Before you get started, I would just like to tell you that I like to have a protective covering on the front of my stencil and not on the back. I find that a slick surface on the back increases the chance for paint smearing underneath.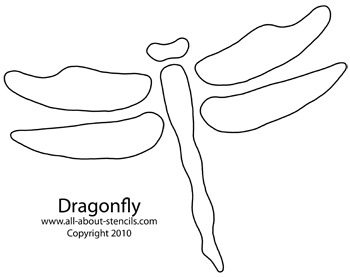 Contact Paper Cover Up Stencil Making Idea
If you can get your hands on some clear Contact Paper, it works great to preserve your stencil too. And it just doesn't get any easier. Just cut a piece the size of your stencil, remove the backing and stick it to the stencil. Voila!
One time I ran across some rolls of clear book covering. It was just at the time that school was starting and it was such a good deal I bought several rolls. So, that might be another option for you.
I added this Dragonfly Stencil for you to try this method of stencil making preservation.
Don't miss the video at the bottom of the page!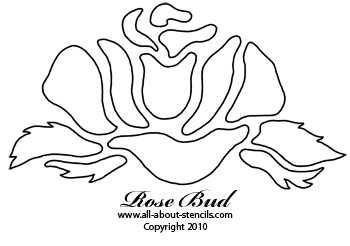 Professional Method: Making an Acetate or Mylar Stencil
Acetate and Mylar are thin plastic sheeting materials that you can purchase at a craft supply store. It usually has a frosty appearance but transparent enough to trace your stencil onto it. It's as easy as that. Trace your stencil design onto the acetate or mylar and cut it out. You now have a permanent stencil!
Now, let's get a little more familiar with the many, many options you have for stencil making films like acetate and mylar. You can purchase these films in clear or color varieties, or in sheets or rolls for different size specifications. Some even are available with an adhesive backing. Enough said about the wide variety of options available to you. Experiment and find the one that works best for your projects. In the meantime, I would like to share a couple of points for you to think about.
Some films do not accept pen or pencil very well, so you will need to find a stencil film that has a matte finish or will allow you to trace your design.
Color films are great because they are easier on the eye. Simply put, it's nice to be able to clearly see the stencil moving over the surface and the openings (islands) will stand out. Yet, make sure that the color film is transparant so that you can view the surface underneath.
For all of its usefulness, acetate does cause a few headaches — ink that won't stay, a yellow or grayish cast to old acetate and edges that curl. There are some alternatives available.
For example, Dura-Lar offers an acetate alternative. It combines the best features of mylar and acetate, and offers a variety of products so that you can purchase the film that suits your needs precisely. It is always consistent in color and overall clarity, and won't discolor with age. Dura-Lar is archival quality, safe for overlaying artwork, and it lays flat (great for stencil making). It will remain dimensionally stable for as long as you need.
Dura-Lar Matte provides both sides with a matte surface which accepts ink without feathering, as well as pencils and other drawing media. The surface is erasable.
Here's a fun note - I have heard that old ex-rays work great for stencil making. I have never done this but if you have a few old ex-rays lying around, you may want to put your creative juices to work and see what you can do with them.


Another stop when seeking stencil making materials is MisterArt.com! They have a few options of films (for permanent use) and Bee Paper Stencil Oil Board which is cardstock thick so you are able to use more than once when stenciling (but not permanent). You'll find they have a dedicated section for stenciling.
Now get started with a few ideas of just what you can accomplish with Pattern Stenciling where you'll also find a great printable stencil so you can use the skills you picked up here.
Well, I hope this information helped you toward how to make stencils and building your own stencil library. Once you have your designs preserved, it's easy to keep them filed away for the next time you want to paint with them.
Hey! Don't forget that I (and everyone else) want to see your stencil making designs. Just click on Stenciling Projects to get your masterpiece showcased here on this web site. Won't that be exciting! Or if you have any questions or want to share information join in on the Stencil Blog. Well, I hope to hear from you soon.
Happy Stenciling,
Penny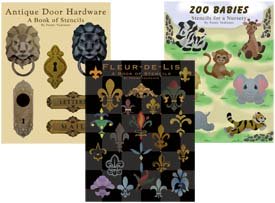 P.S. We are thrilled to introduce our selection of downloadable and Printable Stencils. Instant gratification at its finest! You don't need a special printer - these designs are specially formatted to print from your home computer on standard letter sized paper. Once downloaded, you will have your complete stencil booklet with patterns and instructions. Just click, buy and print!
If you'd rather get your Stencil Pattern Books in Print, then visit our Printer's Book Shop for the same designs in book format that will be mailed to you. You'll find all of the stencils used as examples throughout this site.
Would you like to build a web site like this one and turn a passion into a business? Well, if I did it, you can too. Don't think that you have to be a web designer and know all about computer codes and complicated html stuff. I didn't. With Solo Build It! it's easy and they have the tools in place to help you build pages and teach you how to create a successful web site. Want more information? Just click on Powered by Solo Build It! and watch a cool video that will explain everything. I know you'll get excited like I did.
Now here's that video I promised you.
---
Return to Home Page from Stencil Making Design Tips for Long-Term Use.
Return to How To Make A Stencil from Stencil Making Design Tips for Long-Term Use.