How To Make Stencils!
Learning how to make stencils from a photo or image you love is another part of this fun and exciting hobby!


Watch as this frog picture becomes a simple single layer stencil which is a complete design on one sheet. It will have gaps or bridges between the individual elements of the design which emphasize the details of the image.


Remember, the best images have high contrast with few variations. So let's start with something simple. I am using an image of a frog. First of all, I like him. Second of all, he has a little variation in color but is really not too detailed. And he will be a good subject for showing you how to create islands and bridges from an image.
If your image has a lot of colors and depth and you need to simplify it, put it on a copy machine and get a black and white print of it. Take your black and white image to your drawing table or desk. Top your image with a piece of thin tracing paper and begin to create an outline separating the different parts of the image. Take the term "separating" seriously. Areas should have clear boundaries that allow bridges to appear around the islands or openings where paint is to be applied. Make sure the bridges are wide enough to keep paint from seeping under and smudging your image.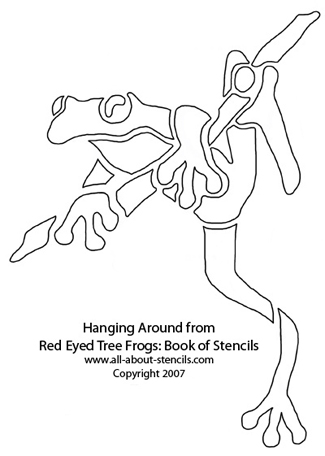 This is what my single layer frog stencil looks like when separated into islands and bridges. (He's available in our Free Stencils too.)
Notice how the islands and bridges developed as each part of the frog and branch were isolated. Some detail was lost like the branch between the frog's toes but that is the disadvantage of a single layer stencil. The advantage, of course, is that you only have one sheet to cut and paint.
Now that you have your stencil, click on Long-Term Stencil Making for some hints and tips that will help you prepare your stencils to be saved for future use.
You can design a stencil with more detail that would eliminate the bridges. If this interests you, read about how to make a stencil with tips on deciding if a simple or complex design is good for you and your picture.
Excellent! It's time to put paint to your stencil. You should be a pro at this by now but if you need help or want to review, go to How to Stencil for the details. Or you can watch the video near the bottom of this page.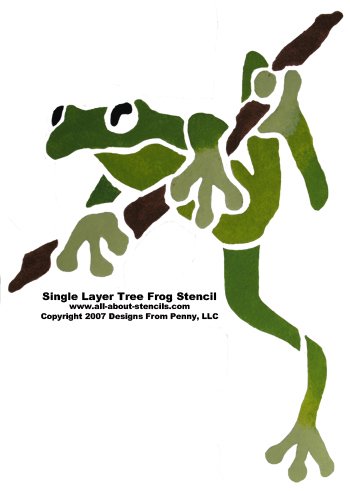 Here is what my painted Single Overlay Frog looks like.
Color brings the image back to life! A lot of the detail has been lost. Yet with practice and experience you can add details by using two or more colors in a single overlay stencil.
Well, you have taken your hobby of stenciling one step further by learning how to make stencils from your own image. I know that sometimes when I get to the drawing table and try to break a sketch down into islands and bridges I end up rubbing my head. But I persevere and it all comes together. I hope you had a great time learning how to make stencils!
You have to see this cute Frog Stencil Painted Furniture Project! Just imagine what you can do when you master how to make stencils of your own.
You can design a stencil that would look more like the top image without bridges and having much more detail. Learn about making stencils with Multiple Overlays.
Maybe you wanted to learn how to make stencils because you couldn't find the perfect designs. Well, we now have a large variety of Downloadable and Printable Stencils.

Below is a sample of the design books that we offer. The first book includes the Frog used as an example in this How To Make Stencils Article.
Each book will come to you as a downloadable pdf file in your e-mail. Just check your e-mail after purchase for the link to connect to your file and print or save. It's that easy!
All designs can be adjusted to fit your project size. Instructions are included. Pages are 8.5" x 11".
If you'd rather get your Stencil Books in Print, just click the blue button below each book.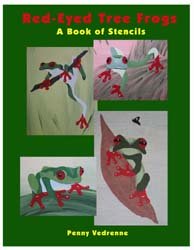 Red-Eyed Tree Frogs
This book contains 4 cute Red-Eyed Tree Frogs for you to paint in your next project. Bring a little of the rain forest to your home. There are 37 pages in this pdf file which includes the stencils of all 4 frogs (each has 5 overlays) and complete instructions.
Price: $9.95
To get this book in print for just $19.95 click here: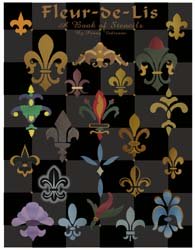 Fleur de lis: Book of Stencils
This collection includes 22 designs. Ten are easy single overlay. Six have 2 overlays and six have 3 overlays.
This purchase is of a PDF file which has 63 pages.
Price: $9.95
To get this book in print for just $19.95 click here: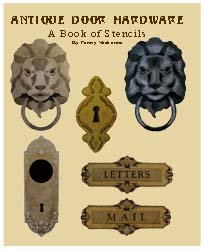 Antique Door Hardware: A Book of Stencils
This collection includes 5 designs- Lion Head Door Knocker, Key Bow, Lock Plate and Mail Box Plaque (with two word options). These images should add a little fun and even some humor to the doors in your home while they introduce a touch of the past.
This purchase is of a PDF file with 25 pages.
Price: $9.95
To get this book in print for just $19.95 click here: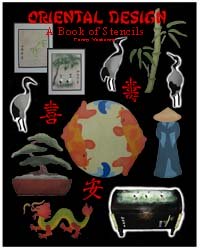 Oriental Designs: A Book of Stencils
This collection includes 16 designs- Chinese Dragon, Bamboo, Oriental Figure with Coolie Hat, Ying Yang Koi, Bonsai Tree and 3 Cranes plus 10 Chinese Symbols (Eternity, Friendship, Happiness, Harmony, Long Life, Peace, Prosperity, Tranquility, Truth and Dragon.
This purchase is of a PDF file with 40 pages.
Price: $9.95
To get this book in print for just $19.95 click here: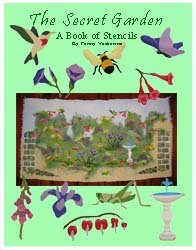 The Secret Garden
Create your own private garden retreat. This collection includes 12 designs-fountain, bleeding heart, iris, bee, butterfly, foxglove, grasshopper, hummingbird, trumpet flower, morning glory, stone wall and stone path.
This purchase is of a PDF file with 51 pages.
Price: $9.95
To get this book in print for just $19.95 click here: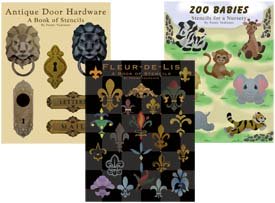 If you'd rather get your Stencil Pattern Books in Print (like these or the Red Eyed Tree Frogs from above) then visit our Printer's Book Shop for a large variety of stencil collections. These books are easy to follow and come with complete instructions. You'll find all of the stencil designs used as samples throughout this site.



The stencil designs used on this page are courtesy of Designs From Penny.


Now that you know how to make stencils, you'll find a need for stencil making supplies, like mylar and acetate. Blick Art Materials can provide you with a large variety of what you need and many other art supplies.

Another stop when seeking stencil making materials is MisterArt.com. They have a few options of films (for permanent use) and Bee Paper Stencil Oil Board which is cardstock thick so you are able to use more than once when stenciling (but not permanent). You'll find they have a dedicated section for stenciling.

Still looking for more information about How To Make Stencils? Amazon.com has a couple of suggestions for books related to stenciling.

Wait, wait! Here's the video on the Basic Stenciling Techniques that I promised you. Enjoy!
Would you like to build a web site like this one and turn a passion into a business? Well, if I did it, you can too. Don't think that you have to be a web designer and know all about computer codes and complicated html stuff. I didn't. With Solo Build It! it's easy and they have the tools in place to help you build pages and teach you how to create a successful web site. Want more information? Just click on Powered by Solo Build It! and watch a cool video that will explain everything. I know you'll get excited like I did.
---
Return to Home Page from How To Make Stencils.
Return to How To Stencil from How To Make Stencils.