Making Stencils!
So you found a cool image and you want to try your hand at making stencils!


Are you creating just a simple single layer stencil? Then first check out How To Make Stencils to create the Frog Stencil. If you want to get more detail from your image, read on!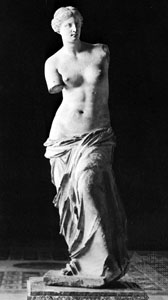 So, you decided that you want more detail in your picture and not just a ghost of the image. Great! The stencil design pattern that is best for you is a Multiple Overlay Design. Here's how I create a stencil from an image or photo.
(Pssst! Don't miss the video on making stencils below after you read the article.)
Remember, the best images for making stencils have high contrast with few variations. So let's start with something simple.
Let's use The Venus de Milo. Since she is primarily marble she relates well to a black and white image. That makes it easy for me to break her into two overlays with just highlights and shadows. And a great place to show you just how to break an image down into layers - the first step of making stencils.
Take your black and white image to your drawing table or desk. Top your image with a piece of thin tracing paper and begin to create an outline separating the dark and light areas. Take the term "separating" seriously. Shaded areas should have clear boundaries if at all possible because bridges need to be built around the islands or openings where paint is to be applied.
If your image has a lot of colors and depth and you need to simplify it, put it on a copy machine and get a black and white print of it. Don't worry if it isn't as pretty as the original image. You will be adding color back to it when you have your stencil design pattern.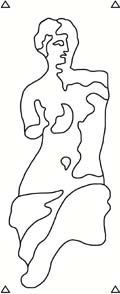 This is what my Venus de Milo looks like when the outline is finished.
Notice how each shaded area is isolated. Now this sketch can be broken down into overlays. Hmmmmm! What is the best way to do that? Well, first I see that I can use the outline of the entire sketch and apply my lightest color. Then use my islands of shaded areas as a second overlay and apply a darker color.
Need to see it in action? Here goes:


Notice how layer one is the whole of the statue and layer two works in the shadows. Paint layer one with a very soft gray and layer two with a little darker. Below is the picture of the painted photo stencil.
This is a great way to start a photo stencil. Imagine you want to add eye color or hair color. Just add a layer. Get the idea. This is just basic but you can apply these rules to your photo.

OK! Have you been asking, "What are those obnoxious triangles in the corners of each sketch?" Well, I'm glad you asked. Those are registration marks or points. This is how you will line up each overlay to make sure that your paint layers are exactly where they need to be. Just cut out the triangles and when you have your first stencil overlay lined up and secured in place, mark the registration points using a pencil. Then lay the next overlay so that the marks line up. Never paint inside the registration points because they are not a part of your design and you will need to eliminate them when the art is done.
When making stencils, design in the registration marks on your first sketch so you can have them exactly aligned on each of the overlays that you trace off of the original.
I've made the triangles bigger than I normally would on the examples used here to make them stand out and to get your attention. They can be smaller or even a different shape. Whatever, is going to work best for making stencils of your own. I just find that cutting three short lines is easier than trying to cut out a nice circle.
There are a few more Stencil Making tips that will help you preserve you stencil for use again and again because after all this work you'll want to get the most out of your own designs.
Excellent! It's time to put paint to your stencil. You should be a pro at this by now but if you need help or want to review, go to How to Stencil for the details. Or you could just watch a video near the bottom of this page.
Here is what my painted Venus de Milo looks like: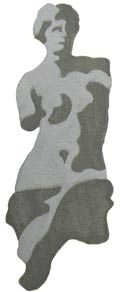 Keep in mind the colors that you are going to use. This was a pretty simple two overlay stencil. As you start adding more dimensions and overlays the more complicated it gets.
When making stencils, I prefer to plan for a separate overlay for each color. It just keeps things simple and you don't have to worry about the wrong paint getting into an island where it's not supposed to be. Of course, that means more overlays and more cutting. However, this extra work in the beginning makes your painting go smoother and that usually results in less mistakes.
So, designing and making stencils of your own can be simplified by creating an overlay for each color needed. You may end up with more overlays, but the stencil painting process will be easier.
Well, you've taken your hobby of stenciling one step further by making stencils from your own image. I know that sometimes when I get to the drawing table and try to break a sketch down into layers I end up rubbing my head. But I persevere and it all comes together. I hope you had a great time making a stencil design pattern.
Here's a fun note: The Venus de Milo example is part of a design called Venus By The Sea (pictured below). It's from a collection of 15 Old-Fashioned Luggage Labels and Travel Poster Stencils that are great for making art prints or decorating an old sea trunk. If you would like, you can purchase the collection below.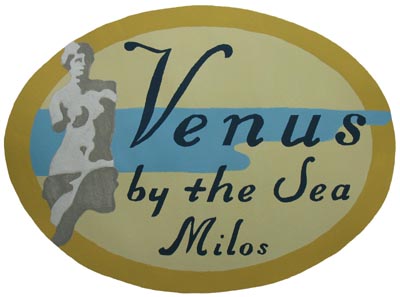 Below is a sample of the Downloadable and Printable Stencils
that we offer. This book has 15 stencils including the Venus de Milo stencil used as an example on this page. The book will come to you as a down-loadable pdf file in your e-mail. Just check your e-mail after purchase for the link to connect to your file and print or save. It's that easy!
All designs can be adjusted to fit your project size. Instructions are included. Pages are 8.5" x 11".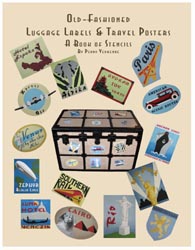 Old Fashioned Luggage Labels and Travel Posters
Paint some travel posters or decorate an old steamer trunk with these 15 designs. 5 are Hotel Advertisements, 5 are Transportation Ads and 5 are Destination Ads (like Paris and New York).
This purchase is of a PDF file with 102 pages.
Price: $9.95
To get this Book in Print for just $32.95 click here: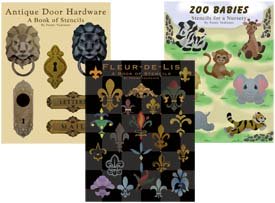 If you'd rather get your Stencil Pattern Books in Print (like these) then visit our Printer's Book Shop for a large variety of stencil collections. These books are easy to follow and come with complete instructions. You'll find all of the stencil designs used as samples throughout this site.
So, now that you are creating your own designs you will need some special tools for making stencils.
For example, using mylar or acetate sheets instead of paper will make your patterns good for permanent use. I always recommend a matte finish that will easily accept ink or pencil (because you will be drawing your design on it). Also, a matter finish doesn't encourage paint to pool and run underneath it which is a big concern in stenciling.
Now, here's the video on making stencils that I promised you:





Stencils used as examples on this web site are courtesy of Designs From Penny.


Here's the video I promised you with tips and hints on the Basic Stenciling Techniques. Enjoy!
Would you like to build a web site like this one and turn a passion into a business? Well, if I did it, you can too. Don't think that you have to be a web designer and know all about computer codes and complicated html stuff. I didn't. With Solo Build It! it's easy and they have the tools in place to help you build pages and teach you how to create a successful web site. Want more information? Just click on Powered by Solo Build It! and watch a cool video that will explain everything. I know you'll get excited like I did.
---
Return to Home Page from Making Stencils for Multiple Overlay Designs.
Return to How To Make A Stencil from Making Stencils for Multiple Overlay Designs.