Painting Koi Stencils!
You've found Koi Stencils and a few creative ideas for painting them into your pond. Plus lot's of other stenciling ideas.


I want to share these beautiful stencils (available in a book below) with you and show you a couple of the art pieces that were made with them. Plus you'll discover a couple of other fish stencils!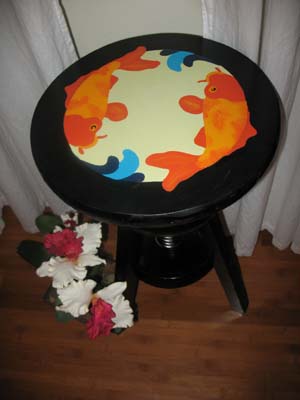 I love working with small pieces. They are easy to maneuver and when finished it's easier to find a space for them in your home. I don't know about your house but small stools like this one come in handy for an extra seat or a step up to the top shelf. I couldn't believe it when my neighbor had it out for the trash. What a find! All it needed was a quick spray paint base of black paint and my canvas was ready to go.
Since the top of the stool was round I was inspired to find a stencil to mimic the shape. This Yin Yang Koi Stencil was perfect. Not to mention the color choices that work well with the fish stand out so well on the black background.
Before stenciling, make sure your surface is not too glossy or slick that the paints for the stencils will bead up. If you're spray painting a base coat, use a flat paint (you can always come back with a clear coat for protection and beauty when the project is finished). If your item already has a base coat and it's glossy, just lightly sand it down with a fine sand paper.
Once your background color is in place, line up your stencil overlays and start painting. Need help with colors? Don't fret. Just visit this page for some stenciling techniques to help you make the right color choices.
If you need more instructions on stenciling, head over to How To Stencil for all you need.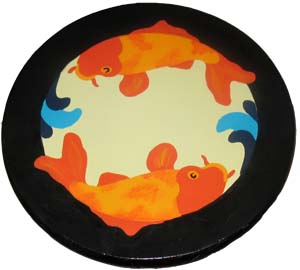 Here's a close up view of the painting. I used a light yellow for the center circle because it was a coordinating color for the room where I planned to showcase the stool. But a nice light blue would have worked well too. So always remember that when planning a project the final destination for your artwork should be considered. Having a good plan before starting work will give you the greatest chance for success!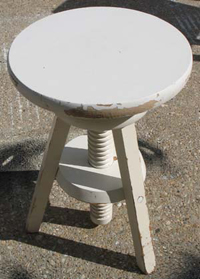 I just have to show you what the stool looked like when I picked it up from the trash. I love before-and-afters. This little guy had so much potential that I just couldn't let him end up on the trash heap. And now it's a great accent, that doesn't take up much room and I am even surprised at how often it comes in handy! If you come across one now you'll know what to do with it. Or maybe there is already one hiding in your garage or attic.
If you like swimming with the fishies then don't miss the Sea Stencils!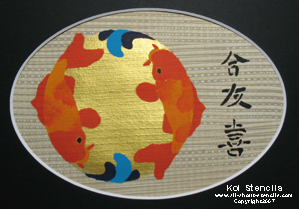 Using stencils (like these koi stencils) is a great way to create your own custom ordered art prints.
For another famous fish I hope you look up the dolphin stencil and find not only free printable stencils but another fishy project. Don't miss the video below as a sneak peak into what you can discover.
I hope you liked the Koi Stencils and project ideas. If you did, you can find him in a book of stencil designs below along with many other Oriental Stencils. I also added a couple of other books that I think you might like.
We are thrilled to introduce these downloadable and Printable Stencils. Instant gratification at its finest! You don't need a special printer - these designs are specially formatted to print straight from your home computer on standard letter sized paper. Once downloaded, you will have your complete stencil booklet with patterns and instructions. Just click, buy and print!
Each book will come to you as a down-loadable pdf file in your e-mail. Just check your e-mail after purchase for the link to connect to your file and print or save. It's that easy!
Click on any Book Cover Image for Project Ideas.
All designs can be adjusted to fit your project size. Instructions are included. Pages are 8.5" x 11".
If you'd rather get your Stencil Books in Print, just click the blue button below each book.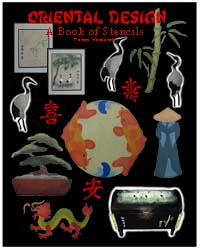 Oriental Designs: A Book of Stencils
This collection includes 16 designs- Chinese Dragon, Bamboo, Oriental Figure with Coolie Hat, Ying Yang Koi Stencils, Bonsai Tree and 3 Cranes plus 10 Chinese Symbols (Eternity, Friendship, Happiness, Harmony, Long Life, Peace, Prosperity, Tranquility, Truth and Dragon.
This purchase is of a PDF file with 40 pages.
Price: $9.95
To get this book in print for just $19.95 click here: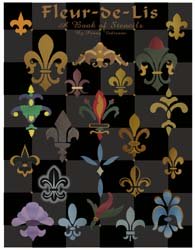 Fleur de lis: Book of Stencils
This collection includes 22 designs. Ten are easy single overlay. Six have 2 overlays and six have 3 overlays.
This purchase is of a PDF file which has 63 pages.
Price: $9.95
To get this book in print for just $19.95 click here: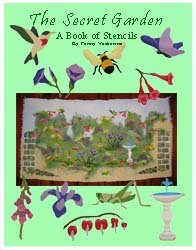 The Secret Garden
Create your own private garden retreat. This collection includes 12 designs-fountain, bleeding heart, iris, bee, butterfly, foxglove, grasshopper, hummingbird, trumpet flower, morning glory, stone wall and stone path.
This purchase is of a PDF file with 51 pages.
Price: $9.95
To get this book in print for just $19.95 click here: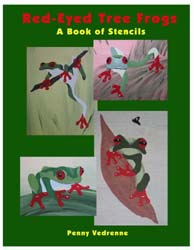 Red-Eyed Tree Frogs
This book contains 4 cute Red-Eyed Tree Frogs for you to paint in your next project. Bring a little of the rain forest to your home. There are 37 pages in this pdf file which includes the stencils of all 4 frogs (each has 5 overlays) and complete instructions. I thought that since you seem to like outdoor wildlife like koi stencils that these little frogs might warm your heart too.
This purchase is of a PDF file with 36 pages.
Price: $9.95
To get this book in print for just $19.95 click here: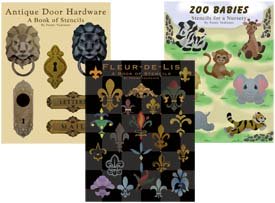 If you'd rather get your Stencil Pattern Books in Print (like these) then visit our Printer's Book Shop for a large variety of stencil collections. These books are easy to follow and come with complete instructions. You'll find all of the stencil designs used as samples throughout this site.
You'll have fun creating and showing off this cute Koi Stencils Stool. This project should get you thinking about all of the possibilities for designing art for your home. I hope you are inspired to create some great works of art with stencils!
Hey! Don't forget that I (and everyone else) want to see what you have done with your koi stencils. Just click on Stenciling Projects to get your masterpiece showcased here on this web site. Won't that be exciting! Or if you have any questions or want to share information join in on the Stencil Blog. Well, I hope to hear from you soon.
Happy Stenciling,
Penny



The koi stencils used as examples on this page and all stencil designs on this site are courtesy of Designs From Penny.


Would you like to build a web site like this one and turn a passion into a business? Well, if I did it, you can too. Don't think that you have to be a web designer and know all about computer codes and complicated html stuff. I didn't. With Solo Build It! it's easy and they have the tools in place to help you build pages and teach you how to create a successful web site. Want more information? Just click on Powered by Solo Build It! and watch a cool video that will explain everything. I know you'll get excited like I did.
Wait! Wait! Here's that project idea video I promised you. Enjoy!
---
Return to Home Page from Painting Koi Stencils on a Stool.
Return to Stenciling Ideas from Painting Koi Stencils on a Stool.