Chinese Stencils
Create a peaceful Asian environment easily with Chinese Stencils. Explore using them to create art prints, painting furniture or stencil wall murals.


Chinese art is beautiful for it's sheer simplicity. Even their writing is artful for the use of a single symbol to indicate a word. I have a few ideas for how you can infuse Oriental Stencils into your design plan and don't miss the book of stencils below.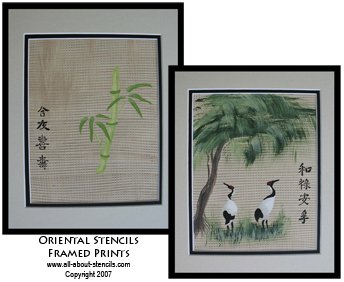 The easiest way (and my favorite) to introduce a touch of chinese stencils into your decor is to create art prints. It doesn't take much to paint a couple of stencils like these on a thick paper and frame them for a pair of beautiful art paintings.
I said thick paper but I know you have noticed that these paintings look like they were done on rice paper or something else because of the textured background. No - it's just plain white paper. I painted the entire blank sheet with a light color and then slathered on thick coat of a darker color then used a comb to run horizontal and vertical lines through the paint while it was still wet. Learn more about this process at Stencil Art Prints and you'll pick up a few other tips and tricks.
The Stencils Bamboo and Cranes are in the book available below. Actually there are three different positioned Cranes for a more complex piece of art if that's your goal.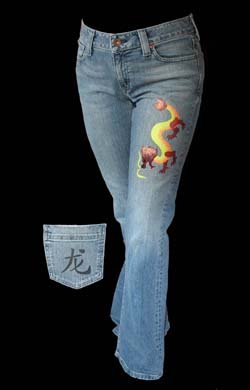 OK! You think about painting stencils on furniture, walls or whatever but have you thought about sprucing up a few old pieces of clothing hanging in your closet or even slated to the dump heap. Well, it's a great way to add a new splash to old jeans. I painted this dragon stencil which is part of the Chinese Stencils Book below onto an old pair of jeans I bought at a thrift store. I love them!
Click over to Dragon Stencils Jeans Project to learn more about this idea and get other tips for stenciling on clothes.
There really is so much that you can do with stenciling on fabrics and clothes. If you think you might want to know more about how to garment stenciling then check out the tips and techniques in this article.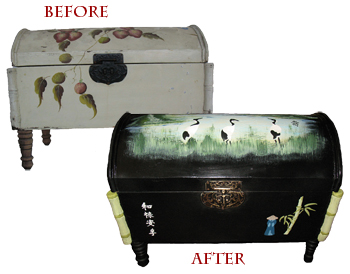 You may find it difficult to have your entire home or even just a room filled with Chinese stencils and design. And sometimes too much of one thing can be ... well, just too much!
That's why a lot of times I add just one piece of a design I like into the mix. I know it ends up being eclectic but it just makes the whole much more interesting.
Adding one small piece of furniture is a great way to achieve this interest without going through too much trouble. This is a very small chest that I found at a Flea Market for five bucks. I loved the shape of it and it worked so well with my Chinese stencils theme. It was easy to work with because it was small and easy to find a place for it in the living room.
If you are considering a project like this then don't miss the article on Furniture Painting for more ideas on stencil placement and color choices plus preparing your furniture for painting.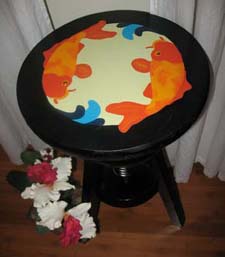 I couldn't help it! Here's another furniture project. I just wanted to share this with you. The round top of the stool was so perfect for the Koi Stencil and I couldn't resist the vibrant colors. I know you may not consider black as vibrant but it really makes the other colors pop so much more. Don't you think?
It was a very easy project and I can always use another stool around the house. Learn more about this project at Koi Stencils and find out the whole interesting story of how I aquired this little piece.
Have you noticed that most Asian Art includes a vertical line of Chinese Symbols or Letters to introduce some personal sentiment?
We are thrilled to introduce our selection of downloadable and printable Stencil Designs.
Instant gratification at its finest! You don't need a special printer - these designs are specially formatted to print straight from your home computer on standard letter sized paper. Once downloaded, you will have your complete stencil booklet with patterns and instructions. Just click, buy and print!
The books below include Chinese Stencils and another one I think you might find interesting. Each book will come to you as a down-loadable pdf file in your e-mail. Just check your e-mail after purchase for the link to connect to your file and print or save. It's that easy! Click on any Book Cover Image for Project Ideas.
All designs can be adjusted to fit your project size. Instructions are included. Pages are 8.5" x 11".
If you'd rather get your Stencil Books in Print, just click the blue button below each book.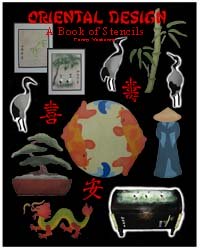 Oriental Designs: A Book of Stencils
This collection includes 16 designs- Chinese Dragon, Stencils Bamboo, Oriental Figure with Coolie Hat, Ying Yang Koi Stencils, Bonsai Tree Stencil and 3 Cranes plus 10 Chinese Symbols (Eternity, Friendship, Happiness, Harmony, Long Life, Peace, Prosperity, Tranquility, Truth and Dragon.
This purchase is of a PDF file with 40 pages.
Price: $9.95
To get this book in print for just $19.95 click here: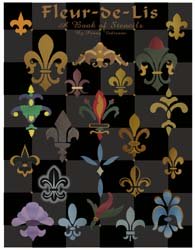 Fleur de lis: Book of Stencils
This collection includes 22 designs. Ten are easy single overlay. Six have 2 overlays and six have 3 overlays. Maybe you haven't thought of using the Fleur de lis in your Holiday Crafts but I hope you reconsider. It's a classic design that lends itself well to the season!
This purchase is of a PDF file which has 63 pages.
Price: $9.95
To get this Book in Print for just $19.95 click here:
Hey! Don't forget that I (and everyone else) want to see what you have done with your Chinese Stencils. Just click on Stenciling Projects to get your masterpiece showcased here on this web site. Won't that be exciting! Or if you have any questions or want to share information join in on the Stencil Blog. Well, I hope to hear from you soon.
Happy Stenciling,
Penny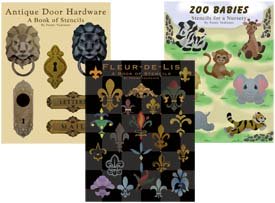 P.S. If you'd rather get your Stencil Pattern Books in Print, then visit our Printer's Book Shop for the same designs in book format that will be mailed to you. You'll find all of the stencils used as examples throughout this site.
Would you like to build a web site like this one and turn a passion into a business? Well, if I did it, you can too! Don't think that you have to be a web designer and know all about computer codes. With Solo Build It! it's easy. They have the tools to help you create a successful web site. Want more information? Just click on Powered by Solo Build It! and watch a cool video that will explain everything. I know you'll get excited like I did.


---
Return to Home Page from Chinese Stencils.
Return to Stencil Designs from Chinese Stencils.