A Dragon Stencil Breaths Life into an Old Pair of Jeans
This project involves painting a dragon stencil on a pair of jeans. Cool idea, huh?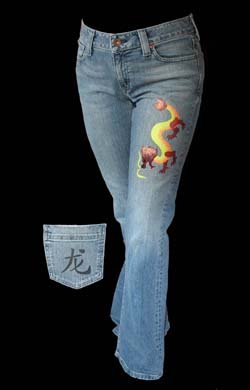 I know you've thought of painting stencils on walls and furniture, but have you considered painting your clothes? Well, think about this. You have an old pair of jeans that you like but you don't seem to wear them anymore because you're just tired of them. Before you chuck 'em out in the trash…why not paint an image on them? It could be this dragon stencil or it could be anything that appeals to you. Make a statement with it!
Besides don't we buy clothing with labels, stitching/embroidery and other decorations? Why not put an image that reflects your personality on a pair of old jeans? You have the talent and as I often say with stencils - it's easy.
This project idea is all about turning your stenciling interests in a whole new direction – decorating your clothes. Who knows your interests better than you? We all have images and icons that we identify with. It may be a certain bird, a fairy, an angel…this list of possibilities is long. And the large variety of stencils available to you is sure to include one that you will find perfect for your tastes.
The best part is that while having fun re-designing your clothes you are creating unique items that only you will be wearing. We all want to stand apart from the crowd and the best way to achieve this is to put your own creativity to the task.
This section is all about motivating you. But if you are ready to start this project, we have the complete step by step plan at How To Garment Stenciling. You'll find the instructions complete with pictures and more details for stenciling on fabrics.
If you want more information on the basic techniques of stenciling, visit How To Stencil. There you'll find out more about the stippling technique and ways to keep paint from smearing under the stencil. You'll also find information on using multi layer stencils.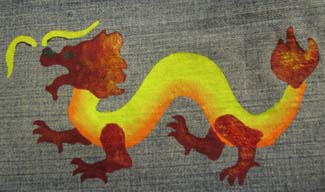 Here is a close up of the painted dragon stencil on the leg of the jeans. Notice that I used a little gold with glitter paint on top of the red to add a little more pizzazz!
I hope you liked the Dragon Stencil Jeans Re-design Project. If you did, check out the book of stencil designs below (you'll find this and some other unique stencils in this book). This is just a sample of the design books that we offer in our Stencils Catalog.

Each book will come to you as a down-loadable pdf file in your e-mail. Just check your e-mail after purchase for the link to connect to your file and print or save. It's that easy!
All designs can be adjusted to fit your project size. Instructions are included. Pages are 8.5" x 11".
If you'd rather get your Stencil Books in Print, just click the blue button below each book.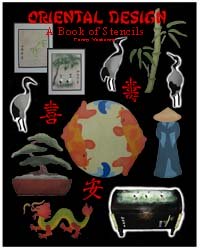 Oriental Designs: A Book of Stencils
This collection includes 16 designs- The Chinese Dragon, Bamboo, Oriental Figure with Coolie Hat, Yin Yang Koi, Bonsai Tree and 3 Cranes plus 10 Chinese Symbols (Eternity, Friendship, Happiness, Harmony, Long Life, Peace, Prosperity, Tranquility, Truth and Dragon).
This purchase is of a down-loadable PDF file with 63 pages. Instructions are included.
Price: $9.95
To get this Book in Print for just $19.95 click here: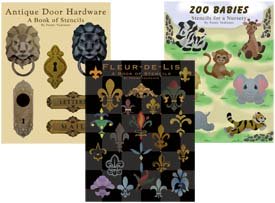 P.S. If you'd rather get your Stencil Pattern Books in Print (like these or the Oriental Designs Book pictured above) then visit our Printer's Book Shop for a large variety of stencil collections. These books are easy to follow and come with complete instructions. You'll find all of the stencil designs used as samples throughout this site.
You'll have fun creating and showing off your new jeans created with the Chinese Dragon Stencil. This project should get you thinking about all of the possibilities for designing art for your home and wardrobe. I hope you are inspired to create some great works of art with stencils!
And hey! Don't forget that I (and everyone else) want to see what you have done with stencils. So, join in on the Stencils Blog or Contact Me to get your masterpiece showcased here. Won't that be exciting! Well, I hope to hear from you soon.
Happy Stenciling,
Penny



The designs used as samples on this site are courtesy of Designs From Penny.

Would you like to build a web site like this one and turn a passion into a business? Well, if I did it, you can too. Don't think that you have to be a web designer and know all about computer codes and complicated html stuff. I didn't. With Solo Build It! it's easy and they have the tools in place to help you build pages and teach you how to create a successful web site. Want more information? Just click on Powered by Solo Build It! and watch a cool video that will explain everything. I know you'll get excited like I did.
---
Return to Home Page from Dragon Stencil Jeans Project.

Return to Stenciling Ideas from Dragon Stencil Jeans Project.