Stenciling Art!
Stenciling art is about so much more than just painting pictures. You're going to be amazed at what you can do with a little stencil!




Anyone can create art with stencils and I hope the project ideas on this page inspire you. We'll do everything from furniture, to clothing and from floors to ceilings. We'll even visit the holidays!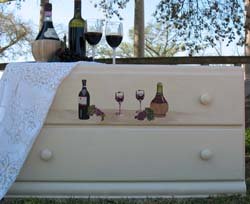 My favorite stenciling art projects usually involve a piece of furniture. It's exciting to transform a piece of junk into a conversation piece.
This was an old four drawer dresser. The two bottom drawers had been damaged so I cut it down to a two drawer and trimmed the bottom with a piece of wall moulding. After a coat of cream colored spray paint on went the stencils.
You can get more details about this dresser re-do, check out the Wine and Grape Stencils Project.
If this sounds like something you want to try, then at furniture painting you'll find a plenty more project samples.
Below you'll find a video that will introduce you to the idea of applying an artists paste into a stencil to create textured or embossed stenciling art. Don't miss it!


Stenciling art onto clothes is a very cool way to design your own unique wardrobe or perhaps breath new life into some old jeans. That's what happened here. I decided to paint a patriotic stencil on the back of a jean jacket and one thing lead to another. So, I ended up with an eagle stencil painted onto a jacket, a pair of jeans and a black t-shirt.
The best part about this project is that the eagle is on of our many free printable stencils (just check out the list on the right for more).
You may be thinking that stenciling art on fabric is different than on other surfaces and that's true. So, there's a great article on how to garment stenciling that will tell you more about decorating clothes.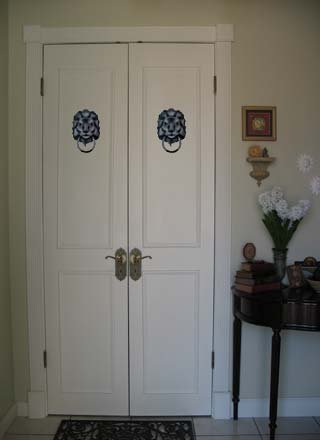 I don't know about you but I use my crafting skills to turn trash into treasure. It just fills me with pride to turn something ugly into something beautiful and unique.
Well, I can't imagine creating stenciling art that is more unique than working with Trompe Loeil Stencils. You don't have to install hardware or have a plumber come out to hang the fountain on the wall. Save your money and just paint one that looks like the real thing.
So, you may have guessed that the Lion Head Door Knockers are stenciling art paintings but did you pick up on the Lock Plates behind the door knobs as being Trompe Loeil Stencils also?
While we are on the subject of unique stenciling art, Toile Stencils are definitely rare because the detailed and ornate nature of Toile is not easy for a stencil design which tends to simplify images. If you would like to try this design style in your stenciling art we have a free pattern for you (click on the blue text).
Now let's move on to something a little less traditional!
Stenciling art comes in many varieties and tastes. If you are looking to create in a very different direction from where we've come check out the Graffiti Art Stencils.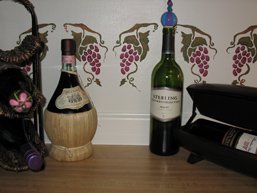 Maybe you have an idea for stenciling art on the walls. There are many ways to do this including Stenciling Wall Borders like the Grapevine Stencils pictured here. It's wonderful to add a simple touch to a wall with a line up of unique hand painted designs.
Of course, if you're looking to cover a whole wall then you need to look into Stencil Wall Murals for a very fun and exciting stenciling art project. You'll also find a video to follow along as a garden mural blooms!

We are thrilled to introduce these downloadable and Printable Stencils. Instant gratification at its finest! You don't need a special printer - these designs are specially formatted to print straight from your home computer on standard letter sized paper. Once downloaded, you will have your complete stencil booklet with patterns and instructions. Just click, buy and print!
Each book will come to you as a down-loadable pdf file in your e-mail. Just check your e-mail after purchase for the link to connect to your file and print or save. It's that easy!
Click on any Book Cover Image for Project Ideas.
All designs can be adjusted to fit your project size. Instructions are included. Pages are 8.5" x 11".
If you'd rather get your Stencil Books in Print, just click the blue button below each book.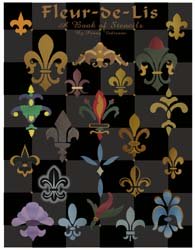 Fleur de lis: Book of Stencils
This collection includes 22 designs. Ten are easy single overlay. Six have 2 overlays and six have 3 overlays.
This purchase is of a PDF file which has 63 pages.
Price: $9.95
To get this Book in Print for just $19.95 click here: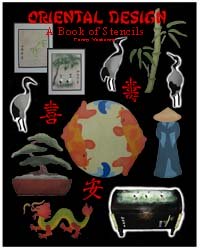 Oriental Designs: A Book of Stencils
This collection includes 16 designs- Chinese Dragon, Bamboo, Oriental Figure with Coolie Hat, Ying Yang Koi Stencils, Bonsai Tree Stencil and 3 Cranes plus 10 Chinese Symbols (Eternity, Friendship, Happiness, Harmony, Long Life, Peace, Prosperity, Tranquility, Truth and Dragon.
This purchase is of a PDF file with 40 pages.
Price: $9.95
To get this book in print for just $19.95 click here: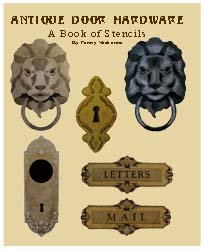 Antique Door Hardware: A Book of Stencils
This collection includes 5 designs- Lion Head Door Knocker, Key Bow, Lock Plate and Mail Box Plaque (with two word options). These images should add a little fun and even some humor to the doors in your home while they introduce a touch of the past.
This purchase is of a PDF file with 25 pages.
Price: $9.95
To get this Book in Print for just $19.95 click here: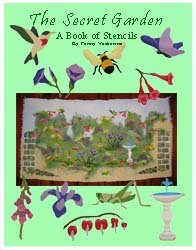 The Secret Garden
Create your own private wall mural garden retreat. This collection includes 12 stencils -fountain, bleeding heart, iris, bee, butterfly, foxglove, grasshopper, hummingbird, trumpet flower, morning glory, stone wall and stone path.
This purchase is of a PDF file with 51 pages.
Price: $9.95
To get this Book in Print for just $19.95 click here: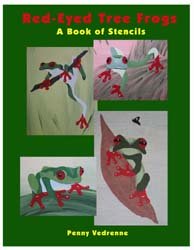 Red-Eyed Tree Frogs
This book contains 4 cute Red-Eyed Tree Frogs for you to paint in your next project. Bring a little of the rain forest to your home. There are 37 pages in this pdf file which includes the stencils of all 4 frogs (each has 5 overlays) and complete instructions.
Price: $9.95
To get this Book in Print for just $19.95 click here:
Here is a great video that details how you can use acrylic based paste to create raised 3-D effect images through stencils. You'll also pick up on some other tips for decorating the paste stencil image once it's done using glitter, jewels and colored chalk. These techniques will open up your mind to create many unique arts and crafts items.
The video is almost 9 minutes long and the embossing stencil instructions start around 3 and a half minutes into it. So be patient because it's worth the wait.
Isn't it great to see a new stenciling idea in action? I find it much easier to learn a new technique by watching someone else. This tutorial should get you thinking about all of the great stenciling art projects you can enhance your holidays with this year (and all year 'round for that matter!). I hope you are inspired to create some great works of art with stencils!
I want to share with you several other Card Making Videos. You'll find plenty of ideas and some new techniques.
So now you are ready to try this out, right? Here are a couple of on-line suppliers of stencil paste products.
MisterArt.com has two options for stencil paste. Both are acid-free but while one dries solid the other offers a Crackle Effect for an antique or aged appearance. Plus you'll find a section dedicated to stenciling with a variety of pre-cut stencils. They carry a large selection of acrylic paints and fabric paints by DecoArt and others. Don't miss their nice line up of stencil brushes.

Stencil Ease has some information on stencil paste and several varieties available for purchase. Here is the description for one of their products (it offers some insight as to how these products work):

Excellent for building surfaces and creating texture. Directions: Scoop out paste with 1" putty knife. Spread paste over Sculpture Stencil™ design with 1", 3" or 6" putty knife. Lift stencil for instant 3-D effects. Will not run or sag on vertical surfaces. Dries to the touch in 2-3 hours and dries completely overnight. Can be painted over with any paint, glaze, chalk, ink, or stain. Tinting will slow drying time and reduce raised effect. Do not mix with oils or paste on oily surface. Clean tools immediately with soap and water. Dries to a flexible, opaque and matte finish.

They also offer some great pre-cut stencil designs for home decorating, alphabets and industrial uses. You will find Americana Acrylic line of paints and fabric paints. Of course, if you can't find the stencil you need, they can custom make one for you.

Before you go - don't forget that I (and everyone else) want to see your stenciling art. Just click on Stenciling Projects to get your masterpiece showcased here on this web site. Won't that be exciting! Or if you have any questions or want to share information join in on the Stencil Blog. Well, I hope to hear from you soon.

Happy Stenciling,

Penny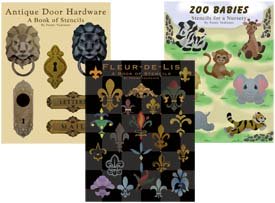 P.S. If you're looking for Stencil Pattern Books in Print (like these) then visit our Printer's Book Shop for a large variety of stencil collections. These books are easy to follow and come with complete instructions. You'll find all of the stencil designs used as samples throughout this site.
Would you like to build a web site like this one and turn a passion into a business? Well, if I did it, you can too. Don't think that you have to be a web designer and know all about computer codes and complicated html stuff. I didn't. With Solo Build It! it's easy and they have the tools in place to help you build pages and teach you how to create a successful web site. Want more information? Just click on Powered by Solo Build It! and watch a cool video that will explain everything. I know you'll get excited like I did.
---
Return to Home Page from Stenciling Art.