Stencils Quilting Patterns!
Stencils are the foundation of so many forms of arts and crafts. These free stencils quilting patterns offer a variety of designs and I hope a little inspiration for your next quilting project.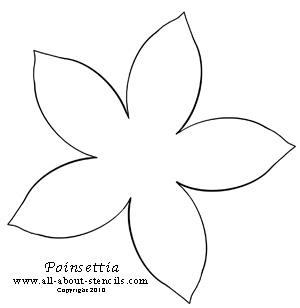 Let's start with this simple Poinsettia. I like to cut two patterns out of a red and pink fabric and sew them on offset from each other. For another wonderful Holiday project using this stencil design check out the Christmas Art Projects. You'll see this pattern used to make 3-D art and even a beautiful tree skirt.
By the way, when you finish here, click over to the Free Stenciling Patterns for Quilting for a few more designs that I think you will like.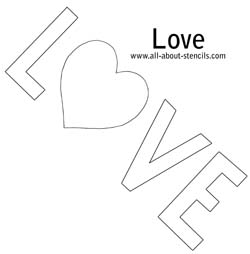 Everyone can use a little Love! This stencils quilting pattern is good for young a girls room. Pair it with the next one in bright pinks and reds for a fresh look for young hearts.
This stencil is from our Free Valentine Stencils Collection.
Since you have made it here I know you are well aware that stencils can be used for much more than paint. Well, I recently finished a project Using Multi Layer Stencils to Create Appliques. You can read all about it and even get the stencil I used for the project.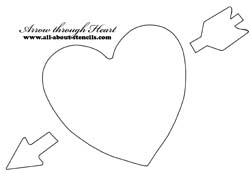 Wouldn't this pattern be great for a wedding or shower gift. You could embroider the couples names in the center.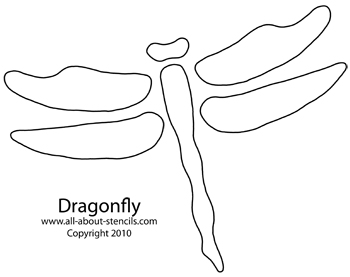 The dragonfly is said to bring good luck. I hope you find that in your next quilting project.
You may be wondering about how these free quilting stencil patterns are going to work since you will be printing them from your computer on plain paper. Well, I recommend that you cover both sides of the paper with a protective coating such as clear shelf liner before you cut out the stencil design. If you don't have any clear shelf line handy, try running strips of clear wide packing tape over the entire page overlapping each edge slightly.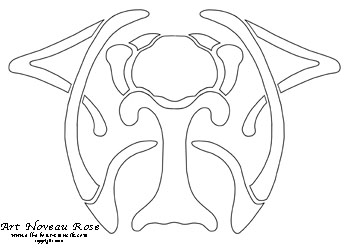 This is one of my favorites. It looks wonderful in pastel pinks, blues and greens.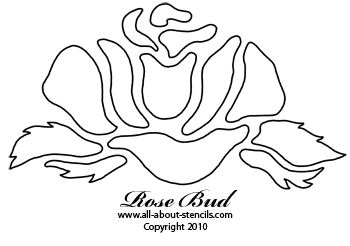 Flowers and of course roses are a familiar pattern in quilts. I hope you like this one.
To print these stencils quilting patterns, just right click on the image and select print or save if you're on a PC or drag it into a document if you're on a MAC. You can change the size of the stencil on any copy machine.
By the way, these are from our Free Stencils Collection. We have so many to offer that they are scattered throughout this web site so keep browsing the pages and come back here for all your Stenciling Ideas.

Hey! Don't forget that I (and everyone else) want to see what you have done with your stencils quilting patterns.
Just click on Stenciling Projects to get your masterpiece showcased here on this web site. Won't that be exciting! Or if you have any questions or want to share information join in on the Stencil Blog. Well, I hope to hear from you soon.
Happy Stenciling,
Penny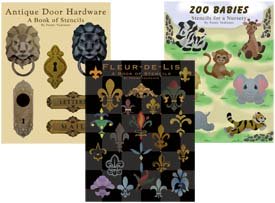 P.S. We are thrilled to introduce our selection of Stencil Designs . Instant gratification at its finest! You don't need a special printer - these designs are specially formatted to print from your home computer on standard letter sized paper. Once downloaded, you will have your complete stencil booklet with patterns and instructions. Just click, buy and print!
If you'd rather get your Stencil Pattern Books in Print, then visit our Printer's Book Shop for the same designs in book format that will be mailed to you. You'll find all of the stencils used as examples throughout this site.


Would you like to build a web site like this one and turn a passion into a business? Well, if I did it, you can too! Don't think that you have to be a web designer and know all about computer codes. With Solo Build It! it's easy. They have the tools to help you create a successful web site. Want more information? Just click on Powered by Solo Build It! and watch a cool video that will explain everything. I know you'll get excited like I did.
---
Return to Home Page from Stencils Quilting Patterns.
Return to Quilting Stencil Patterns from Stencils Quilting Patterns.