Christmas Art Projects and Stencil Designs
These Christmas Art Projects use stencils but not paint. Sounds unbelievable. Well, believe it and read on you'll love this. Don't miss the action in video too.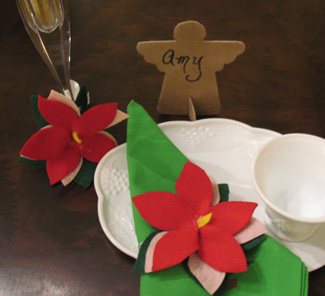 OK - Normally when we think about using stencil designs we imagine pressing paint into the openings. Right now I'm going to ask you to wipe that image out of your mind because we are going to use stencils in a whole new way.
First I'm going to tell you in words what I did but don't miss the video below where I'll show you!
For this Christmas Art Projects Event, I want to share with you how to create 3-D objects using stencil designs. First let me tell you that most of the stencils that I am using here are from Printable Christmas Stencils where you can print them for free!
I created four items with these free stencil patterns. They are an angel name place holder, a gingerbread man gift decoration, a poinsettia napkin ring holder (that I also used to decorate a crystal candle holder) and a reindeer centerpiece.
When you print downloadable stencils on paper you are required to cut out the image. On these Christmas Art Projects, it's the cut out pieces that will be our patterns.
Don't forget that now you not only have patterns for all of your 3-D decorations but now you have the stencils too! These are great for more Christmas Art Projects.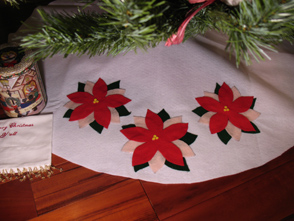 When you finish reading about using stencils for 3-D decorations, don't miss this Christmas Art Craft Tree Skirt Idea. I made seven different skirts to show you what you can do!
I always recommend that you cover your paper stencils with a clear protective coating before you cut them out so that they can be used again and again. After all, if you're going to go through the work to do the cutting shouldn't your efforts be for the long run. I use clear shelf liner but if you don't have any of that run strips of clear shipping tape with a slight overlap so that the whole page is covered.
For the Angel Name Place Holder, I cut the pattern out of a stiff felt. I only had white on hand so I spray painted her gold. To get her to stand I cut a half circle out of the stiff felt and cut a notch in the center on the rounded edge (the flat edge stands on the table) and a notch in the bottom center of the Angel. They should be only deep enough to slide into each other but not all the way through.
The poinsettia was cut from three pieces of regular felt (red, pink and green). I took a small piece of yellow, pinched it in the middle of the red flower and secured it in place with some hot glue (be careful). Then I glued that one to the center of the pink flower and then to the center of the green.
I secured a ribbon on the back so that you can tie it around a napkin or decorate just about anything. I used some to embellish the crystal candle holders that normally sit on my table. This way I added a little holiday flare to the usual decor. It's an easy, quick switch out!


I used the Gingerbread Man Stencil to cut out some patterns on brown felt. Then decorated them with red felt. Just a hint - I used a hole punch for the circles - so much easier than cutting out all those little circles.
You can use these to decorate gifts instead of bows or as tree ornaments (get the kids involved with that). I'm sure you can think of about a thousand other ways they can add a little holiday spirit to your decorations.
Once you've got your feet wet with this project I know you'll be itching to get into more Christmas Crafts like this one. Not to worry - we have plenty.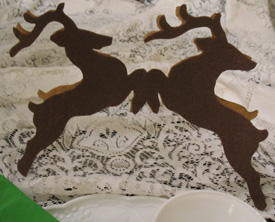 I created this cute reindeer centerpiece with a couple of the stencils found below by placing the cutout reindeer images from the stencils on two pieces of stiff brown felt with their front legs lining up together and tracing. Then I cut out the two patterns and used a hot glue gun to attach them at the legs.
The felt is stiff enough to allow the Reindeer Centerpiece to stand up but flexible enough for you to separate the two parts to give them a leg to stand on - so to speak. You may want to glue a brace between the hooves to provide some stability.
If you like the Reindeer shapes in this project then I know you'll love to see how I used them to create Christmas Art Prints to hang over my fireplace. I just replace my usual paintings during December for a unique holiday decoration. Again, a quick switch out and a Christmas Art Projects idea that will can be used year after year!
Well that's it in words! Now here it is in a motion picture event (too dramatic?).




I hope you got a lot out of this Christmas Art Projects Production. And most of it done with Free Stencils.

We are thrilled to introduce our selection of downloadable stencils in The Stencils Store. Instant gratification at its finest! You don't need a special printer - these designs are specially formatted to print straight from your home computer on standard letter sized paper. Once downloaded, you will have your complete stencil booklet with patterns and instructions. Just click, buy and print!
The books below are for Christmas Art Projects. Each book will come to you as a downloadable pdf file in your e-mail. Just check your e-mail after purchase for the link to connect to your file and print or save. It's that easy!
All designs can be adjusted to fit your project size. Instructions are included. Pages are 8.5" x 11".
If you'd rather get your Stencil Books in Print, just click the blue button below each book.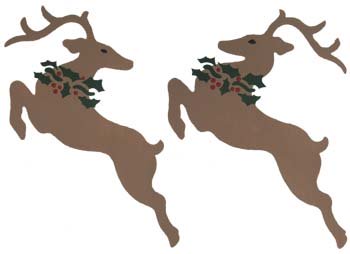 Flying Reindeer Stencils
Do you like the Reindeer Prints pictured here? These are the stencils used for the 3-D Reindeer Centerpiece.
They're very easy 2 overlay stencils in a down-loadable pdf file so that you can get your stencils right away (they will be e-mailed to you). Complete instructions included and ready to print on regular letter size paper.
Price: $4.00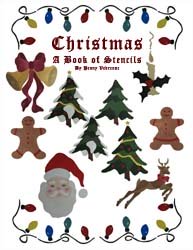 Christmas: A Book of Stencils
This collection includes 9 designs. They are Santa Claus, a Reindeer, a Christmas Tree (with options for decorations), a Candle with Holly Accents, Bells with a Bow, a Gingerbread Boy and Girl, and a String of Lights.
This purchase is of a PDF file which has 42 pages.
Price: $9.95
To get this Book in Print for just $19.95 click here: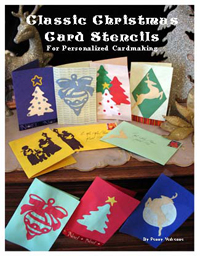 Classic Christmas Cards
Here's a neat little book that I created for Christmas Card Making. The designs can be used as stencils or masks. You can use them to apply paint or cut out colored paper and paste. Stencils included are the Christmas tree and star, the reindeer, the ornament and bow and of course the carolers. Also, included is a pattern so that you can make matching envelopes. These stencils are great for all of your Christmas Art Projects.
And it's only $4.50.
To get this Book in Print for just $14.95 click here: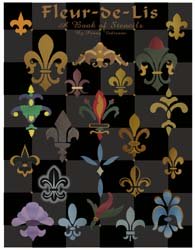 Fleur de lis: Book of Stencils
This collection includes 22 designs. Ten are easy single overlay. Six have 2 overlays and six have 3 overlays.
This purchase is of a PDF file which has 63 pages.
Price: $9.95
To get this Book in Print for just $19.95 click here: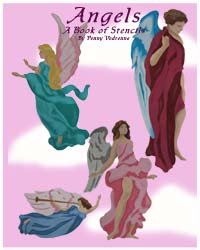 Angels: A Book of Stencils
These will be wonderful additions to your Christmas Art Projects.
This collection includes 4 designs- Angel in Thought, Young Angel, Angel with Trumpet and Guardian Angel. Angels are a classic addition to your Christmas Arts and Crafts.
This purchase is of a PDF file with 32 pages.
Price: $9.95
To get this Book in Print for just $19.95 click here:
And hey! Don't forget that I (and everyone else) want to see what you have done with your Christmas Art Projects. Just click on Stenciling Projects to get your masterpiece showcased here on this web site. Won't that be exciting! Or if you have any questions or want to share information join in on the Stencil Blog. Well, I hope to hear from you soon.
Happy Stenciling,
Penny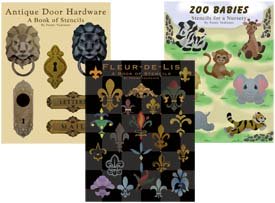 P.S. If you'd rather get your Stencil Pattern Books in Print (like these or the one above), then visit our Printer's Book Shop for the same designs in book format that will be mailed to you. You'll find all of the stencils used as examples throughout this site.
Would you like to build a web site like this one and turn a passion into a business? Well, if I did it, you can too! Don't think that you have to be a web designer and know all about computer codes and complicated html stuff. I didn't. With Solo Build It! it's easy and they have the tools in place to help you build pages and teach you how to create a successful web site. Want more information? Just click on Powered by Solo Build It! and watch a cool video that will explain everything. I know you'll get excited like I did.
---
Return to Home Page from Christmas Art Projects.
Return to Christmas Crafts from Christmas Art Projects.