Using Snowflake Patterns to Create 3-D Centerpieces and More!
Snowflake patterns are hexagonal in shape; meaning that they are always six sided.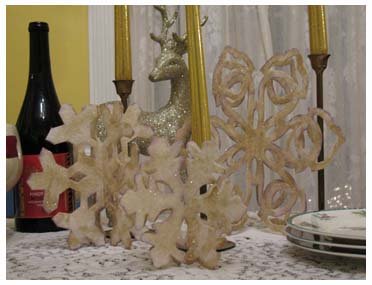 When I was young, I would make paper snowflakes to hang in the window for Christmas.
But when I sat down the other day to make snowflake patterns, I couldn't remember how to fold a piece of paper to create a six-sided snowflake. It was sad to think that the years which have gone by made me forget such a simple pleasure.
So, I set out to rekindle my past and found a great deal of joy when I started to create some decorative winter snowflakes. And in the process I found that there are many other ways to decorate with snowflakes than hanging them in the window.
Now I want to share with you the snowflake designs and decorative ideas that I discovered.

First, if you are looking for the pattern to fold a piece of paper so that you can make a snowflake, here is the one I created. Just click to download the Snowflake Fold Template. This pattern will be the start of many great projects.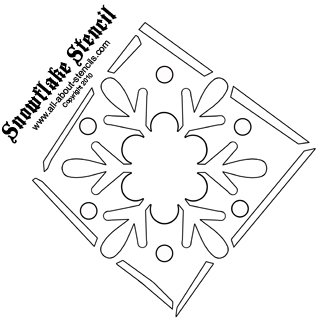 By the way here's a free snowflake stencil for you from our Free Stencils Collection. Enjoy!
There are so many ways to decorate with 3-D snowflakes. My favorite is to arrange three different size gold snowflakes as the dining room table centerpiece like the picture above. It's simple and yet so elegant.
Another way to decorate with 3-D snowflakes is to make several and hang them in an arrangement from the ceiling, a chandelier, in a doorway…
Here's how you can make a 3-D snowflake. I like to use stiff felt that I can find at the local craft supply store and of course I use white. You may be able to find a stiff felt that already has a glitter effect but if not you can either use a spray glitter or spray glue and glitter sprinkles. Cut out a snowflake pattern in paper and then trace the design onto the stiff felt in two places. Cut out both snowflakes from the felt with a craft knife. Now on each of the snowflakes make one cut straight into the center from one of the closest point to the center. Slide the snowflakes together through the cuts to center. You may need to make two very close cuts along the one you made into the center if your snowflake does not open into four directions easily.
If you are using spray glitter or any other means of decorating your snowflakes, do that before you assemble the two pieces.
So, you can't find stiff felt. That's OK. You can cut the snowflake patterns out of regular felt (or any fabric for that matter). To make the fabric stiff so that it will stand up treat it with a fabric stiffening solution or regular school glue. Just lay the fabric flat and brush on the solution. It may take some time for the stiffener or glue to dry, so be patient. Also, you can iron the fabric with a heavy starch. Experiment with these solutions on some scrap fabric until you find the one that works for you.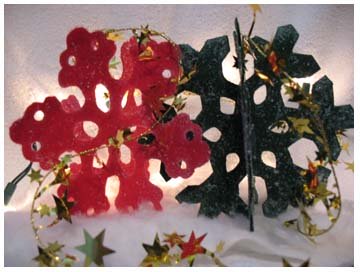 I hope you have some fun with this idea and get really creative. For example, if you can make any fabric stiff (according to the hint above) then why not use a tartan fabric or a toile? Using a fabric that will be a good match to your normal décor can help blend your Christmas decorations with the permanent residents of your home. Check out these two snowflakes in red and green!
By the way, these 3-D snowflake decorations breakdown and store easily for years to come.
Creating your own holiday decorations is an ideal way of expressing your tastes. For example, if you have traditional tastes, work with red, green, silver and gold. But if you're into retro, then create snowflakes in bright colors like cyan blue, neon green and hot pink. When you are the designer, the only limit is your imagination. The same goes for gift giving. When you design gifts, you do it with a specific person and their tastes in mind. Crafting gives us an opportunity to be unique and create one-of-a-kind art for decorating or giving.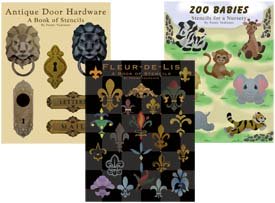 In an effort to bring you a complete solution for all of your stenciling needs, we now have a catalog for you to browse a large variety of designs that you can open at your computer and print now or save. Just check out our Stencils Catalog for your next project.
If you'd rather get your Stencil Pattern Books in Print (like these), then visit our Printer's Book Shop for a large variety of stencil collections. You'll find all of the stencil designs used as samples throughout this site.



Do you like the snowflake designs featured on this page? They are compliments of Designs From Penny like all of the examples of stencils used on this web site.
It's easy to decorate with stencils and snowflake patterns. Plus, it's the perfect way to create a unique setting. I hope you enjoy your Snowflake Designs and create some great works of art!
"How full of the creative genius is the air in which these are generated! I should hardly admire more if real stars fell and lodged on my coat." --Henry David Thoreau, 1856

Would you like to build a web site like this one and turn a passion into a business? Well, if I did it, you can too. Don't think that you have to be a web designer and know all about computer codes and complicated html stuff. I didn't. With Solo Build It! it's easy and they have the tools in place to help you build pages and teach you how to create a successful web site. Want more information? Just click on Powered by Solo Build It! and watch a cool video that will explain everything. I know you'll get excited like I did.
---
Return to Home Page from 3-D Snowflake Patterns.
Return to Christmas Crafts from 3-D Snowflake Patterns.