How to Create Christmas Art Prints
Christmas Art! Holiday decorations usually extend as far as the tree, a few lights, a nativity scene and maybe a few candles. Well...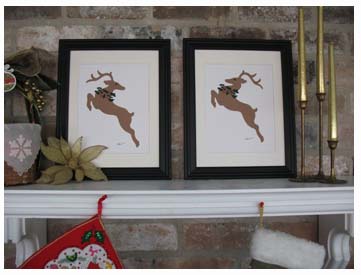 ... I want you to consider a new way to bring the holiday's home. Do you have a couple of art prints hanging around (over the fireplace mantel or maybe behind the sofa)? Imagine replacing them temporarily with holiday art prints. It's much easier than you might think to create your own Christmas art to complete your festive mood. Using stencils of course. They make great art prints and they're easy to work with.
You can use stencils and choose the colors that will match the theme of your decorations. Your framed artwork can be customized to fit your holidays! What is your Christmas theme? Is it angels or reindeer or Santa Claus or snowflakes? You can find the perfect stencils to create art prints which will carry your Christmas theme to the walls.
The prints above were made with simple two overlay designs. They were painted on a plain white background, matted and framed. The matte and frame came together in a pre-made package at the local art supply store for very little money. It was a very easy project and they definitely make a statement over the fireplace.
I invite you to watch this informative Holiday Stencil Tutorial Video. It's great to see some new techniques in action. Plus you'll pick up on a few fun ideas to add to your holiday preparations.
But wait! There's a video with some great project ideas below.
One of the best benefits of creating hanging wall art stencils to frame is that you can always change the print. They are easy to change out for the holidays of course but if you decide to decorate with reindeer instead of angels, that's no problem either. Just create new art prints. It's just a very easy and inexpensive way to decorate.
For some great stencil patterns check out our Stencils Catalog.
Be creative and make a scene! Use two or more stencils together to create a more complex art piece. Use an angel stencil and surround her with some unique star stencils. Or you can paint a Santa Claus with some Christmas trees. Use a larger image as a focal point and then put smaller images around it.
When creating your own stencil Christmas art, you can choose whatever colors best match your decor. Do you stay with the traditional red and green or do you like to dazzle it up with silver and gold? Maybe you're into retro and you have a silver tree decorated with hot pink and neon green ornaments? The point is that since you are creating your own art, be yourself. Have a good time!
One of my favorite Christmas craft ideas is to pair Christmas stencils with words. Picture two individual prints each a picture of an angel in tones of gold with the words "Peace" and "Joy." This is an opportunity to display the sentiments that mean the most to you.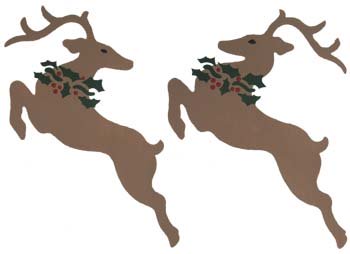 So, do you like the Reindeer Christmas Art Prints pictured above? Well, here are the stencils so that you can create your own. They're very easy 2 overlay stencils in a down-loadable pdf file so that you can get your stencils right away (they will be e-mailed to you). Complete instructions included.
Just $4.00.
We are thrilled to introduce our selection of downloadable and Printable Stencils. Instant gratification at its finest! You don't need a special printer - these designs are specially formatted to print straight from your home computer on standard letter sized paper. Once downloaded, you will have your complete stencil booklet with patterns and instructions. Just click, buy and print!
The books below are great for Christmas Art Projects. Each book will come to you as a downloadable pdf file in your e-mail. Just check your e-mail after purchase for the link to connect to your file and print or save. It's that easy!
All designs can be adjusted to fit your project size. Instructions are included. Pages are 8.5" x 11".
If you'd rather get your Stencil Books in Print, just click the blue button below each book.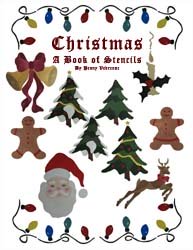 Christmas: A Book of Stencils
This collection includes 9 designs. They are Santa Claus, a Reindeer, a Christmas Tree (with options for decorations), a Candle with Holly Accents, Bells with a Bow, a Gingerbread Boy and Girl, and a String of Lights.
This purchase is of a PDF file which has 42 pages.
Price: $9.95
To get this Book in Print for just $19.95 click here: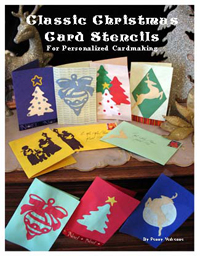 Classic Christmas Cards
Here's a neat little book that I created for Christmas Card Making. The designs can be used as stencils or masks. You can use them to apply paint or cut out colored paper and paste. Stencils included are the Christmas tree and star, the reindeer, the ornament and bow and of course the carolers. Also, included is a pattern so that you can make matching envelopes. These stencils are great for all of your Christmas Art Projects.
And it's only $4.50.
To get this Book in Print for just $14.95 click here: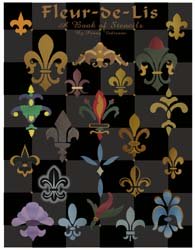 Fleur de lis: Book of Stencils
This collection includes 22 designs. Ten are easy single overlay. Six have 2 overlays and six have 3 overlays.
This purchase is of a PDF file which has 63 pages.
Price: $9.95
To get this Book in Print for just $19.95 click here: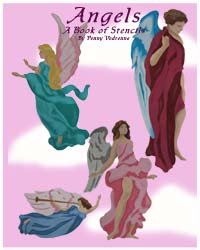 Angels: A Book of Stencils
These will be wonderful additions to your Christmas Art and Crafts.
This collection includes 4 designs- Angel in Thought, Young Angel, Angel with Trumpet and Guardian Angel. Angels are a classic addition to your Christmas Arts and Crafts.
This purchase is of a PDF file with 32 pages.
Price: $9.95
To get this Book in Print for just $19.95 click here: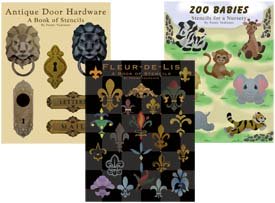 If you'd rather have your Stencil Pattern Books in Print (like these) then visit our Printer's Book Shop for a large variety of stencil collections. These books are easy to follow and come with complete instructions. You'll find all of the stencil designs used as samples throughout this site.

You may be curious about what type of paper works best for creating stencil art prints. You want a paper that has a smooth finish to allow the stencil to lay flat on the surface so that the edges of the painting will be clean and crisp. Also, you want a matte finish that will readily accept paint. Make sure it is heavyweight and thick so that the wet paint won't cause the paper to bubble and stretch.
I recommend Strathmore Windpower Bristol Pads (either the smooth or the vellum).
Just a fun note about the Strathmore Windpower line of Artist Papers, they are made with 100% wind power – a pollution-free, renewable energy resource.
Hey wait... I have another great Stenciling Art video tutorial that I know you'll love. Ever wonder how you can use a stencil to create a 3-D raised image? Well, here are a couple of talented ladies to show you how plus a few more ideas for decorating the designs.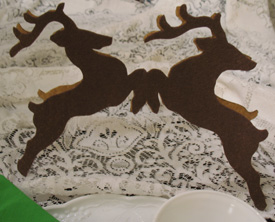 OK - Normally when we think about using stencil designs we imagine pressing paint into the openings. Right now I'm going to ask you to wipe that image out of your mind because we are going to do some Christmas Art Projects that use stencils in a whole new way (like the 3-D Reindeer Centerpiece).
I hope that now you have some great ideas about how you can decorate with stencil Christmas art prints. You are only limited by your own imagination (and I know there is no limit there). You can choose the size, colors, theme, framing…Let's face it – you are in charge. I know you will have fun with these great Christmas art projects. So go get 'em and
Happy Stenciling!
Penny
Oh wait! Here's that video I promised you. Enjoy!

Stencils used on this site are courtesy of Designs From Penny.


Would you like to build a web site like this one and turn a passion into a business? Well, if I did it, you can too! Don't think that you have to be a web designer and know all about computer codes and complicated html stuff. I didn't. With Solo Build It! it's easy and they have the tools in place to help you build pages and teach you how to create a successful web site. Want more information? Just click on Powered by Solo Build It! and watch a cool video that will explain everything. I know you'll get excited like I did.
---
Return to Home Page from Christmas Art.