Free Stenciling Patterns for Quilting
Here are a couple more free stenciling patterns for quilting.


This web site is loaded with Free Stencils for all of your stenciling needs. Just check out the list on the right and click on any subject for free stencils.


If you are looking for just Quilting Stencil Patterns, you may be missing out on all the other stencil designs out there that will work with your Stencils Quilting Ideas.
Don't limit your search and be open to all of the patterns that we have to offer. All you have to do is print them out and consider them as Free Stenciling Patterns for Quilting.
By the way, I like to cover the top side of the paper before I cut out the openings so that I can use my stencils again and again.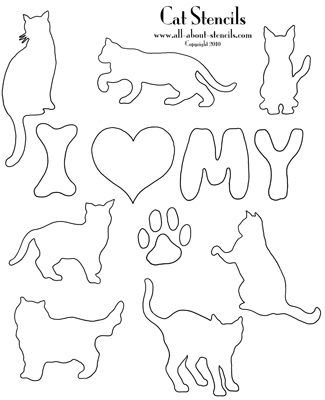 Use these Dog Stencils and Cat Stencils to create a quilt in honor of your Best Friend. Or maybe these would help make a beloved gift for someone you love. Animals are a big part of our lives and using their images in art is a great way to keep them close to us.
I often talk about using stencils in ways other than puching paint through the openings. After all they're patterns. I think you might like this Christmas Art Craft Project where we use stencil patterns to make Christmas Tree Skirts. There are seven different designs for you to get some ideas about what you can do with a project like this.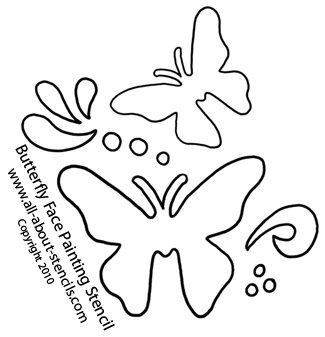 I know we already talked about using stencils that were designed for other thing rather than as free stenciling patterns for quilting. But take this design that was made for Face Paint Stencils. Wouldn't this pattern make a lovely addition to a quilt. I bet you can picture the fabrics you already want to use. Well, enjoy!
The patterns here are all single layer stencils but if you would like to see how more complex patterns can be used then go to Using Multi Layer Stencils to Create Appliques and read all about it! And of course you'll find the stencil used for the project free to print (it's a cute little baby zebra).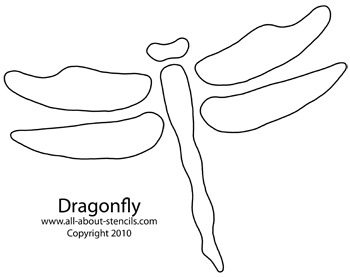 Dragonflies have become popular lately. Someone told me they are a sign of good luck. I don't know but they remind me of summer and flowers blooming and that's a happy scene.
Hey! Don't forget that I (and everyone else) want to see what you have done with your Free Stenciling Patterns for Quilting. Just click on Stenciling Projects
to get your masterpiece showcased here on this web site. Won't that be exciting! Or if you have any questions or want to share information join in on the Stencil Blog. Well, I hope to hear from you soon.
Happy Stenciling,
Penny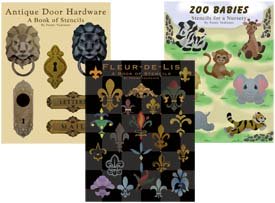 P.S. We are thrilled to introduce our selection of downloadable and printable Stencil Designs. Instant gratification at its finest! You don't need a special printer - these designs are specially formatted to print from your home computer on standard letter sized paper. Once downloaded, you will have your complete stencil booklet with patterns and instructions. Just click, buy and print!
If you'd rather get your Stencil Pattern Books in Print, then visit our Printer's Book Shop for the same designs in book format that will be mailed to you. You'll find all of the stencils used as examples throughout this site.
Would you like to build a web site like this one and turn a passion into a business? Well, if I did it, you can too! Don't think that you have to be a web designer and know all about computer codes. With Solo Build It! it's easy. They have the tools to help you create a successful web site. Want more information? Just click on Powered by Solo Build It! and watch a cool video that will explain everything. I know you'll get excited like I did.
---
Return to Home Page from Free Stenciling Patterns for Quilting.
Return to Quilting Stencil Patterns from Free Stenciling Patterns for Quilting.