Picket Fence Stencil
A simple picket fence stencil can complete a mural or any other landscape scene you are trying to create.




Whether you are planning a barn yard scene, a zoo theme, a garden view or just a nice meadow and wild flower painting, a picket fence can be the finishing touch.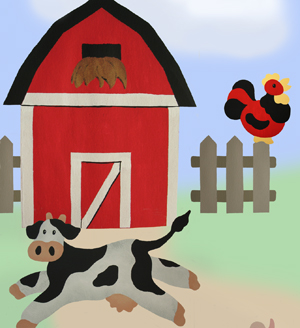 The picket fence stencil is a symbol of comfort and country home. Here's a scene from a barn yard that is accented with a bright red chicken and a Cow Stencil prancing in the yard.
This picture came from a mural of Stencils for Nursery. As far as I'm concerned the most fun you can have with painting is designing for the little ones because you can really let your imagination run wild and designing a Wall Stencils Nursery Mural is not as hard as you might think with stencils!
Of course, a picket fence stencil can be a part of any landscape scene. Imagine a garden or meadow of beautiful flowers peeking through a picket fence. I know you can just see it now. Watch a video at Stencil Wall Murals to see how you can paint a wall with stencils.
We are thrilled to introduce our selection of downloadable and printable Stencil Designs. Instant gratification at its finest! You don't need a special printer - these designs are specially formatted to print straight from your home computer on standard letter sized paper. Once downloaded, you will have your complete stencil booklet with patterns and instructions. Just click, buy and print!
The books below include a picket fence stencil and a couple of others that I think you might find interesting. Each book will come to you as a down-loadable pdf file in your e-mail. Just check your e-mail after purchase for the link to connect to your file and print or save. It's that easy! Click on any Book Cover Image for Project Ideas.
All designs can be adjusted to fit your project size. Instructions are included. Pages are 8.5" x 11".
If you'd rather get your Stencil Books in Print, just click the blue button below each book.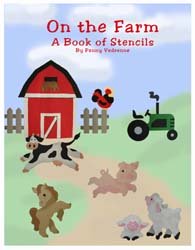 On the Farm
With these animal stencils you can create the perfect barn yard setting for your little one. This collection includes 9 designs- a Cow, a Chicken, a Pig, a Sheep, a Lamb, a Horse, Fence, a Barn and a Tractor.
This purchase is of a PDF file with 40 pages.
Price: $9.95
To get this Book in Print for just $19.95 click here: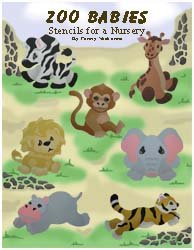 Zoo Babies: Stencils for a Nursery
This collection includes 7 animal stencils - an Elephant, a Giraffe, a Hippo, a Lion, a Monkey, a Tiger and a Zebra.
This purchase is of a PDF file with 40 pages.
Price: $9.95
To get this Book in Print for just $19.95 click here: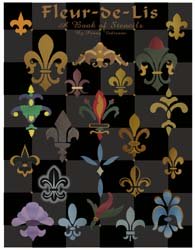 Fleur de lis: Book of Stencils
This collection includes 22 designs. Ten are easy single overlay. Six have 2 overlays and six have 3 overlays. Maybe you haven't thought of using the Fleur de lis in your Holiday Crafts but I hope you reconsider. It's a classic design that lends itself well to the season!
This purchase is of a PDF file which has 63 pages.
Price: $9.95
To get this Book in Print for just $19.95 click here:
Hey! Don't forget that I (and everyone else) want to see what you have done with your picket fence stencil. Just click on Stenciling Projects to get your masterpiece showcased here on this web site. Won't that be exciting! Or if you have any questions or want to share information join in on the Stencil Blog. Well, I hope to hear from you soon.
Happy Stenciling,
Penny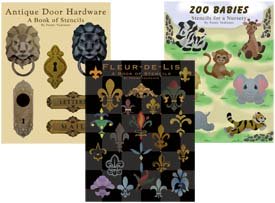 P.S. If you'd rather get your Stencil Pattern Books in Print, then visit our Printer's Book Shop for the same designs in book format that will be mailed to you. You'll find all of the stencils used as examples throughout this site.
Would you like to build a web site like this one and turn a passion into a business? Well, if I did it, you can too! Don't think that you have to be a web designer and know all about computer codes. With Solo Build It! it's easy. They have the tools to help you create a successful web site. Want more information? Just click on Powered by Solo Build It! and watch a cool video that will explain everything. I know you'll get excited like I did.
---
Return to Home Page from Picket Fence Stencil.
Return to Animal Stencils from Picket Fence Stencil.