The Stencil Painting Starts Here!
Well, if you've followed all the links then you should be ready for some stencil painting. Great! It's the second best part - the first being admiring your work when it's all done of course.


Alright, let's get to it. (Pssst...Don't miss the great videos on stenciling wall borders and cabinets).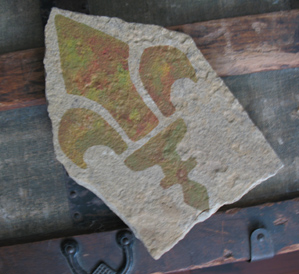 Let's start with a single overlay stencil like this one pictured here.
Pour paint onto your palette. Dab the tips of your brush in the paint and then work the paint into the brush by dipping it firmly. With a circular motion, dab the brush several times on a paper towel or piece of paper to get out any excess paint.
It's important to have a brush that is on the dry side in order to keep paint from seeping under the stencil and smearing or running if you are working on a vertical project. If paint is seeping under the stencil or you are not getting clean edges than you are using too much paint. This will most likely happen to some degree anyway so be prepared to do some touching up.
Resist the temptation to load the brush up with paint so that you don't have to do a second coat. More color is achieved by repeated coverage, not by using more paint. When your brush is properly loaded, an even powdering of paint is left when blotted on the paper towel.
Apply the paint to the stencil openings (islands) using a downward or dabbing motion over the edges of the stencil so as not to push paint under the stencil. If you use a back and forth brushing motion, the brush will push paint under the stencil and cause smearing. Apply paint with this dabbing and blotting motion in all the cut out areas of your stencil overlay. Start at the edges of each opening and work your way to the center. Allow to dry and apply additional coats of paint, if necessary.
Allow paint to thoroughly dry between coats of stencil painting. When you are satisfied with the color achieved and the paint is dry, then carefully remove the stencil and do any touching up that needs to be done. If you are using a Multiple Overlay Stencil please read the section below before removing the stencil.
If you are wondering about the best paints to use in your stenciling projects and where to find them, then keep reading. Below you'll find all that and more.


For Multiple Overlay Stencils:
Let's assume that the instructions above were referring to your first overlay of a Multiple Overlay Stencil. Before you remove the stencil, did you mark your registration holes so that you can line up your next overlay? If not, do it now. OK – the paint is dry, you have removed the first overlay and did any touching up that had to be done.
When all the paint for overlay #1 is thoroughly dry, put overlay #2 in place and line up with the registration marks. When the overlay is lined up, tape and apply paint.
Continue in this same manner with each overlay until you have a completed picture.
Don't forget to eliminate the registration marks.
Well, that's it! Now it's time to sit back and admire. Ahhhhhhhhhhh!
It sure seems like the stencil painting went by quickly and smoothly, right? Well, that's what all the preparation and planning was for – to insure your success.
Don't forget to check out the next section that I call Make It Your Own. I've added some tips and hints on personalizing your stencil.
When it comes to stencil painting, the best advice I can give you is to invest in good paints. Thin, watery paints will run and seep under your stencil. They will also need many more coats to achieve the color saturation you are looking for. They will cause more damage to a paper stencil due to the repeated exposure to the liquids. Most of all, save yourself the frustration and aggravation.
I've listed a few places in the right column for you to find good quality paints, plus some of your other stenciling needs.
And now I want to share this wonderful video for Stenciling Wall Borders. I know you'll pick up a few tips and ideas and hope you get motivated to create with stencil painting. Enjoy!
Wait! If you found it helpful to watch then don't miss the video on Basic Stenciling Techniques. It's great to learn while watching. And don't forget that there's another video below.
Well, I hope you had a great time stencil painting with us! Now you should be looking around for your next project! Try the article on Paint Stenciling which tells you a couple of ways to create with stencils.
Happy Stenciling!
Penny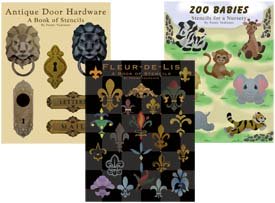 P.S. If you're looking for Stencil Pattern Books in Print (like these) then visit our Printer's Book Shop for a large variety of stencils. These books are easy to follow and come with complete instructions. You'll find all of the stencil designs used as samples throughout this site.
Of course, if you want stencil designs that you can print from your computer right now, go to the Stencils Catalog!



Stencils used as examples on this web site are courtesy of Designs From Penny.

Now for the other great video I promised you. Seeing these techniques in action will really help you get into the swing of what you can do with stencils.




Would you like to build a web site like this one and turn a passion into a business? Well, if I did it, you can too. Don't think that you have to be a web designer and know all about computer codes and complicated html stuff. I didn't. With Solo Build It! it's easy and they have the tools in place to help you build pages and teach you how to create a successful web site. Want more information? Just click on Powered by Solo Build It! and watch a cool video that will explain everything. I know you'll get excited like I did.
---
Return to Home Page from The Stencil Painting Starts Here!
Return to How To Stencil from The Stencil Painting Starts Here!