How To Apply A Temporary Tattoo Stencil
Here's how to apply a temporary tattoo stencil. Use them with the kids at a party or paint one on a shoulder for an after five event.


Are you considering a permanent tattoo? Or maybe you just want to sport one for the weekend or evening. Using stencils for temporary tattoos is a great way to show off a design for a special event or try one on before you go permanent.
Next question is how to apply a temporary tattoo stencil? Well, here are a couple of ways that I use.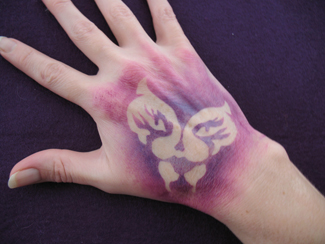 There are many ways to do this but let's just keep it simple and safe with non-toxic face paint that you can get at any craft supply store.
First, I found the temporary tattoo stencil design I wanted (a butterfly that you can find at Tribal Stencils) and got it sized for the area that I was going to tattoo (the back of my hand - since I am doing this myself). If you are using the butterfly or any other stencil that you can can print from the internet, it's easy to re-size with an image adjusting software like Photoshop. Of course, if you don't have Photoshop or another program like it you can always reduce or enlarge the size of your stencil on a copy machine.
(Pssst! If you're still looking for the right image, check out these temporary tattoo stencils - they're free and you can print it right now!).
Trace your temporary tattoo stencil onto any material that is clear and you can peel and stick to your surface. I used clear shelf liner but clear laminate sheets would work too. Just make sure to read all directions on any product you use to make sure that it is safe to use on your skin. In fact, test on a small piece of skin to see if you get any reactions and just to know what to expect when you put something on your skin.
Next, using a craft knife, cut out the design from your clear paper. Once you separate the cut out look at the pieces that have been cut out and the remaining page. You may be able to use either one as your stencil design. With this project, I'll show you how this works. Notice the Henna style tattoo (below) is made with the pattern removed and the purple butterfly is from tacking the cut out pieces on my hand.


Peel the back off the paper and roll onto the surface to be painted. Make sure all edges are down against the skin so that paint can't seep under and you'll get clean lines.
Apply the face paint on the exposed skin. I used a sponge brush to blot paint all over the entire area. A sponge brush leaves a smoother finish without the lines from a brush tool.
Let the paint dry and slowly peel off the stencil. And that's how to apply a temporary tattoo stencil!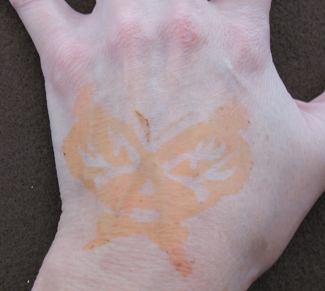 Here's how to apply a temporary tattoo stencil henna style:
I used the brown paint and put it on very thick. After I peeled off the stencil, a thick top layer of paint was peeled off and the stained henna look remained.
For the butterfly (pictured above) I covered the whole area with a light purple and then darkened in the center with a dark blue.
The paint that I am using can be easily washed off with soap and water but again make sure to read all directions so that you know what to expect.
Hey! Don't forget that I (and everyone else) want to see what you have done with the knowledge of how to apply a temporary tattoo stencil. Just click on Stenciling Projects to get your masterpiece showcased here on this web site. Won't that be exciting! Or if you have any questions or want to share information join in on the Stencil Blog. Well, I hope to hear from you soon.
Happy Stenciling,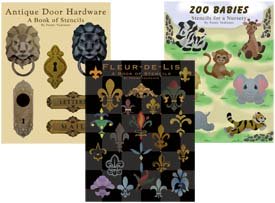 P.S. We are thrilled to introduce our selection of Stencil Designs. Instant gratification at its finest! You don't need a special printer - these designs are specially formatted to print from your home computer on standard letter sized paper. Once downloaded, you will have your complete stencil booklet with patterns and instructions. Just click, buy and print!
If you'd rather get your Stencil Pattern Books in Print, then visit our Printer's Book Shop for the same designs in book format that will be mailed to you. You'll find all of the stencils used as examples throughout this site.




Would you like to build a web site like this one and turn a passion into a business? Well, if I did it, you can too! Don't think that you have to be a web designer and know all about computer codes. With Solo Build It! it's easy. They have the tools to help you create a successful web site. Want more information? Just click on Powered by Solo Build It! and watch a cool video that will explain everything. I know you'll get excited like I did.
---
Return to Body Stencils from How to Apply A Temporary Tattoo Stencil.