Stenciling Letters!
See how with stenciling letters you can design very unique art.




Using Letter Stencils to design and decorate is the best way to personalize! Use them to sketch out a name or a favorite poem or sentiment.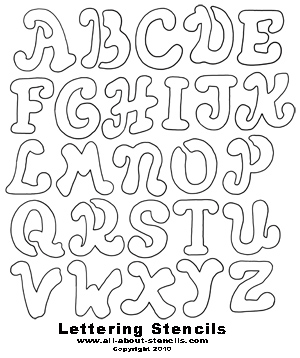 Here is a complete set of letters for you to get started. To form them into what you want to say, use a piece of tracing paper and transfer them into your words. It might help to use a ruler to draw straight lines in order to get them lined up perfectly. On the other hand, I like to offset them on purpose to make sure they have that hand sketched look and feel. It's up to you though. You are the artist and designer!
If you want a different font, then here's what I do. On your word processor (like Word on a PC) write out what it is you want to say and select the entire caption. Try changing the font until you get what you like. You can change the size to fit your project area. If you need more space just turn the page to Landscape. Then print and cute out the letters in stencil style (meaning leave a couple of bridges in the paper to keep your stencil together). Keep reading for more tips on How To Make A Stencil.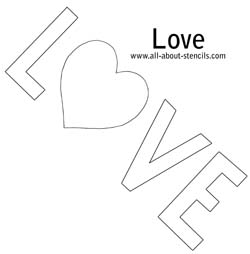 I have a couple of pre-made stencils here for you. This Love Stencil comes from the Valentine Stencils Collection.
By the way, if you are trying your hand at creating your own stenciling letters, make sure that before you cut out the openings (called islands) that you cover the page with a clear protective coating like clear shelf liner. This way you can use the stencil again and again. I even wipe them down with a damp cloth after using them.
A very unique way of decorating a room is to scribe a name or sentiment on a wall with stenciling letters. Well, if this is your goal and you are wondering how to get a stencil large enough here's what I do. Create the stencil exactly how you want it on paper. Take that to a document printer and ask them to enlarge it. They have big plotters and machines that can do that. If you can bring them the file on a CD or Flash Drive (or even e-mail it to them) that would be even better.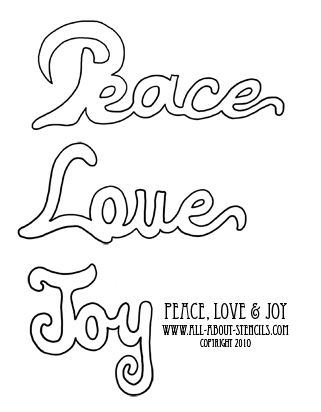 Here's a cute sentiment from the Christmas Stencils Collection. You have to see how this was used to make a tree skirt for Christmas at Christmas Art Craft. You'll get many ideas about how stencils can be used for much more then applying paint through the openings.
Hey! Don't forget that I (and everyone else) want to see what you have done with Stenciling Letters. Just click on Stenciling Projects to get your masterpiece showcased here on this web site. Won't that be exciting! Or if you have any questions or want to share information join in on the Stencil Blog. Well, I hope to hear from you soon.
Happy Stenciling,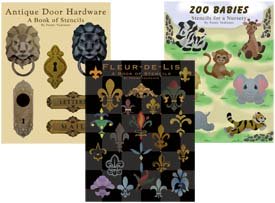 P.S. We are thrilled to introduce our selection of Stencil Designs. Instant gratification at its finest! You don't need a special printer - these designs are specially formatted to print from your home computer on standard letter sized paper. Once downloaded, you will have your complete stencil booklet with patterns and instructions. Just click, buy and print!
If you'd rather get your Stencil Pattern Books in Print, then visit our Printer's Book Shop for the same designs in book format that will be mailed to you. You'll find all of the stencils used as examples throughout this site.
Would you like to build a web site like this one and turn a passion into a business? Well, if I did it, you can too! Don't think that you have to be a web designer and know all about computer codes. With Solo Build It! it's easy. They have the tools to help you create a successful web site. Want more information? Just click on Powered by Solo Build It! and watch a cool video that will explain everything. I know you'll get excited like I did.
---
Return to Home Page from Stenciling Letters.
Return to Stencil Designs from Stenciling Letters.