Making a Stenciled Evening Bag

Painting a stencil on an Evening Bag can add just that final touch needed to make a clear and present statement at any soiree!

---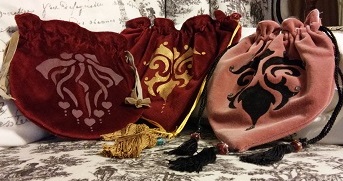 If you use or are in need of a convenient little evening bag that's small and can wrap around your wrist to stay handy but out of the way, this project is for you.  Of course, it's great for a jewelry travel bag or an excellent gift!

Making a Stenciled Evening Bag
OK! You will need to do a little sewing but even if you have the basic skills with a machine (and actually there is no reason you can't do this by hand) you'll find this pretty easy. It's just sewing seams along the bottom, across the top and straight lines for channels to run the drawstring through.
On this page you'll find the stencils, but for the step by step instructions, and many great ideas for finishing touches to your stenciled evening bag, go to our sister site (Designs From Penny.com) to find out about Making a Velvet Jewelry Pouch.
Scroll down and print the stencils now or just come back later when your bag is finished if you haven't yet decided which stencil will be used as decoration on your evening bag. Don't worry! You'll find the link back here in case you lose it.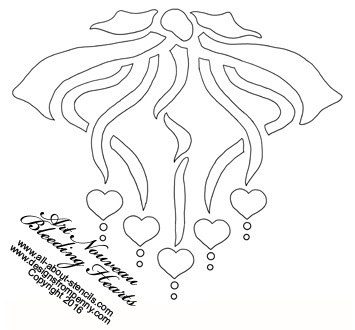 The Art Nouveau Bleeding Heart Stencil
This design is just perfect for making a stenciled evening bag. Art Nouveau is so very feminine and matched with velvet it is reminiscent of an antique opera bag like the ladies used to carry. The play of ribbons and dangling hearts would be loved by any Victorian enthusiasts.
Feel free to print and use these stencils while making a stenciled evening bag (or any other project you feel it would work).
Here's a tip to make your stenciling easier. After you have printed the stencil cover it with a layer of clear shelf liner before you cut out the design. This will keep paint from smudging and ruining the paper as it gets wet. Plus it preserves the stencil so you can use it again.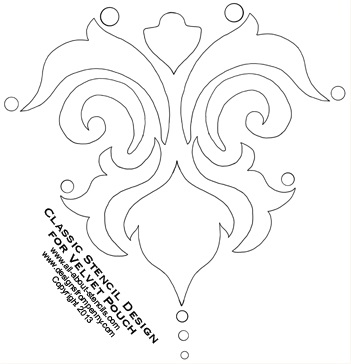 Classic Stencil Design
This pattern is just a series of scrolls and dots. It's reminiscent of a fleur de lis but not quite there. It'll work great on making a stenciled evening bag (look below for how it came out on one I did) but it could go almost anywhere you want just a pattern without any recognizable images (like wallpaper).
Another stenciling hint: When dabbing paint into the stencil openings (called islands), always make sure to use an up and down motion (dabbing) and never a back and forth motion. Dip the brush lightly along the edges of the openings. Following these rules will keep paint from seeping under the edges of the stencil and help you get crisp lines on the finished artwork.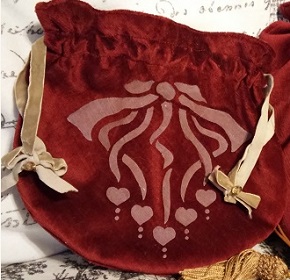 Finished Jewelry Pouches
I have two finished bags that are adorned with the above stencils!
This little evening bag was decorated with the Art Nouveau Bleeding Heart Stencil. The paint color is a light pink although it's hard to tell because so much of the vibrant red velvet bleeds through.  I used a gold velvet ribbon as drawstring and just tied simple little bows in the ends.  The lining is white cotton with little roses.
I actually like the way the paint did not completely cover the vibrant color of the velvet. However, you may prefer to use a stark white. You see in any project such a making a stenciled evening bag you are the creator and designer. So have it your way! (Uh-Oh! Now I sound like we're making burgers).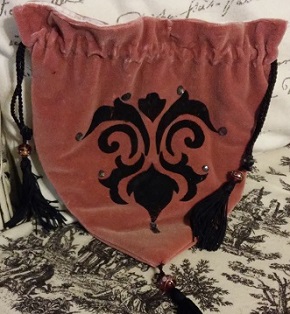 This stenciled evening bag is my favorite. I love the soft pink in contrast to the start black stencil and embellishments. I used a dainty black rope for the drawstring. Then I glued on some gems at the points on the stencil for even more flair. This is also a crest pattern bag so I attached a black tassel and bead from the bottom. All the embellishments match that beautiful black stencil pattern. I can't express enough how wonderful the black paint looks on the pink velvet.
Well, that ought to get you started! I hope you enjoyed this project and will try making a stenciled evening bag of your own!
Take care and keep in touch! Penny