Thank You for Your Order!
Thank you so much for your purchase! I hope you create some great works of art with your stencils.
Please check your e-mail for the link to download your stencils. The e-mail you receive should look something like the example below.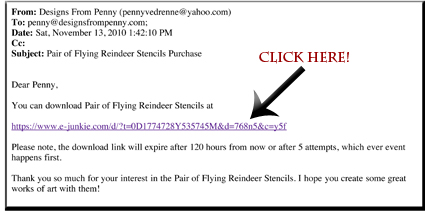 Once you click on the link, you'll be directed to a web page that looks like this:





If you don't receive your e-mail soon check your Junk or Spam Folder in case it was delivered there!
If there are any problems please contact me immediately by going to my Contact Page and completing the form near the bottom of the page.
Your patronage and satisfaction is what keeps this web site going and I truly appreciate your visit! I hope you found inspiration here and will come back soon.
Happy Stenciling,
Penny