Stenciling Tips and Techniques for Professional Results
So, you've finished Stenciling 101 and now you're looking for some stenciling tips and hints to push your artwork to a higher level of expertise.

Well, you've come to the right place. I hope these ideas give you all that you are looking for.
Oh yeah...Don't miss the great video after you read this article.
Tips for Applying Paint
Start painting on the edges of the stencil, working into the center, rather than from the center outwards. Again this helps prevent paint from getting under the edges.
I can't say it enough…Don't overload a brush with paint! Too much paint will cause it to seep under the edges of the stencil. Load the brush lightly, so that the ends of the bristles are covered evenly. Wipe off any excess on a piece of paper or cloth.
You'll get better results by applying two thin coats rather than one thick coat. Wait for the first coat to dry before applying the second coat.
Using a Mask
If you run into a situation where two openings on a stencil are very close but require different colors use a sheet of paper to cover one opening while applying paint to the other. This is called a mask.
You can use low-tack masking tape to cover openings that you don't want to paint. For example, if you have a single overly stencil of a rose with stem and leaves, cover the rose with tape while you apply green paint to the stem and leaves. Then cover the leaves and stem with tape while you paint the rose. This works well with plastic stencils but if you have a paper stencil just hold another piece of paper (or heavy card stock) over the openings you don't want to paint.
Well these are just a few of the stenciling tips and techniques that I am able to detail for now. I will be building on this page as the whole site develops. If there is something you would like to see here please contact me and let me know what that is. I would be glad to investigate and add it to this page.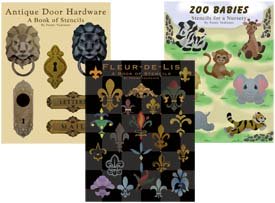 We now have a catalog for you to browse stencil patterns that you can open at your computer and print now or save (No waiting on the Mail Man). Just check out our Stencils Catalog for your next project.
If you'd rather get your Stencil Pattern Books in Print (like these), then visit our Printer's Book Shop for a large variety of stencil collections. You'll find all of the stencils used as examples throughout this site.
Now for that great video I promised you. Seeing these techniques in action will really help you get into the swing of what you can do with stencils.


---
Return to Home Page from Stenciling Tips and Techniques for Professional Results.
Return to Advanced Tips from Stenciling Tips and Techniques for Professional Results.