Checklist for Stencil Supplies – Get the Right Stuff!
Working on a project with stencils? Well, you need the right stencil supplies before getting started. This article includes an extensive discussion on different supplies and tools to help you find what will work best for you!
Here is a quick checklist of stencil supplies. You may not need all of these items so I put a little description of what they are used for so that you can decide.
• Pencil – of course for making areas, outlining and of course marking registration points on Multiple Layer Stencils. It's always good to have a pencil around at any craft project.
• Low-tack masking tape or stencil adhesive – this is for securing the stencil to your surface.
• Stencil brushes or foam brushes - paint applicators - below you will find some more details on these options.
• Paint – of course. Good quality paints are a must in stenciling. Thin, watery paints will cause running and smudging. So, invest in good paints to insure that your project is successful.
• Level – handy when needing your stencil to line up horizontally or vertically.
• Ruler or tape measure – for making sure your stencil fits an area or making sure it is centered.
• Craft-knife and a cutting surface - for Cut-and-Paint Stencils.
• Palette - for the amount of paint to be used on the current project.
• Cloth or paper towels – for cleanup and blotting paint.
Below are more details about some of the stencil supplies you'll want to have handy plus some suggestions on Stenciling Resources. I hope this information will help you make some decisions on what options might be best for you. Remember, nothing beats personal experience so try different things and you will fall into your own niche before you know it.
Stenciling Brushes:
Stencil brushes have short, firm bristles that are either flat or dome tipped. Bristles on a flat brush are all the same length while bristles on a domed brush will be slightly tapered near the edges. They are designed to reduce the amount of paint seeping under the edges of the stencil openings. While either brush will do, you will find that as you develop skills a domed brush will help you achieve a larger variety of shading effects and color depth variations.
Besides shape choices, brushes come in a variety of fiber choices: natural or nylon. Natural bristles are more flexible and lend themselves better when applying the swirling technique of paint application while nylon bristles are much stiffer and better suited for the stippling technique.
Foam Brushes:
I have also had great luck with Foam Brushes. They help reduce paint seeping under the stencil as long as you make sure to apply to the stencil only when the sponge is on the dry side. The disadvantage of using a foam brush is that you cannot achieve the shading effects and color depth variation within each opening as you can with a domed stencil brush. However, if your goal is to get an even layer of color especially in a larger area, foam brushes will work well. Remember that you can always get a coat of color down with a foam brush first and then use a brush to add details.
Hint: It is best to use a separate brush/applicator for each color of paint; but if you don't, just make sure to wash and allow the brush to dry thoroughly between colors. You do not want your paints to get watered down because thin paints will be most likely to seep under the stencil edges.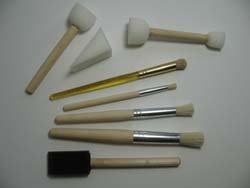 Other Paint Applicators:
When it comes to art the only limit is your imagination. That being said, applicators can be anything you want…brushes, spray paint, rags, air brush, dish sponges, roller sponges, cotton balls, make-up sponges, sea sponges…Keep trying until you find what works for you!
Here is a picture of some of the paint applicators that I use for stenciling.
Mister Art.com has a dedicated department for stencil supplies. Here you'll find stencil films, paints, books and tools. Plus and extensive selection of applicators including brushes and sponges.

Craft Knife:
Craft knives are needed for cut-and-paint stencils. You have several options for craft-knives. I prefer to use an X-ACTO with a Fine Point Blade (#11) pictured here. But some people prefer one that allows you to snap off a dull blade to reveal a sharp one. Whatever works best for you is great as long as you always work with a sharp blade (and be very careful).
Palette:
You can use a paper plate as a palette but in all honesty I like a nice firm plastic palette. The paper can absorb some of the paint and become soft and you could end up with a mess. Take my advice and invest in a nice plastic palette with several pools for your acrylic paint (not a flat palette that oil painter's use).
In these times, we're always looking for a bargain. CreateForLess has a good selection of plastic palettes for you to choose. Plus you'll find Delta Ceramacoat and DecoArt Paints, stencil brushes and applicators, a few pre-cut stencil designs, and many other items on your stencil supplies checklist.

Paints (last but not least):
It is so important to invest in good paints. Thin and watery paints will cause so many problems with your stencil project. They run and seep under the stencil, smudging your painted image. They require you to put on more coats so that you have the correct color saturation. This wastes time, allows more chances for mistakes and generally causes a lot of aggravation. Believe me, I know. Early on I thought I could get away with the cheap paints and I learned my lesson the hard way. Avoid those mistakes and find a paint that is of a good quality. Just remember, stenciling is a "dry brush" technique so the goal is to find a paint that is not watery.

Joann.com carries a variety of high quality acrylic paints, great for stenciling. You'll find brands like Delta Ceramacoat, Folk Art, Americana and DecoArt. They also provide paint applicators and many other arts and crafts and stencil supplies.

Ah hah! I bet you're thinking that I'm forgetting about the most important piece on the supply list - the stencil. No, I really wasn't because I think that it's not just a tool...it's the main focus of your whole painting project. Besides, I have dedicated several other articles solely on the stencil. For more information on that, travel over to Stenciling 101 for all the details on the different types of stencil designs that you have to work with. You'll find all the details there so it's really not worth repeating here.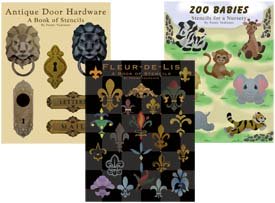 However, we have a large variety of stencils that you can open at your computer and print now or save. Just check out our Stencils Catalog for your next project.
If you'd rather get your Stencil Pattern Books in Print (like these), then visit our Printer's Book Shop for the same stencil collections in book format. You'll find all of the stencil designs used as examples throughout this site.
Anyway, here are two more places to go for good stencil designs.

Royal Design Studio has a beautiful line of decorative stencils. You'll even love the web site. It's packed with great how to information and inspiration rooms that have been transformed with stencils. But it doesn't stop there. They also carry many of the stencil supplies that you will need.
If it's pre-cut stencil designs that you are looking for, then may I suggest Stencil Ease. They have decorative, alphabet and industrial designs or they can custom make one for you. You'll also find Americana Acrylic Paints and other stencil supplies.




The Truth About All of This:
If you are just starting to stencil than none of this is going to make a difference. It will become more important to you as you develop your own style and find the techniques that suit you. My advice is to try a little of everything and before you know it you'll find your niche!
Well, that's about all for now on stencil supplies. I hope you have a good idea about the tools available to make your stenciling projects a grand success.
Happy Stenciling!
Penny






Would you like to build a web site like this one and turn a passion into a business? Well, if I did it, you can too. Don't think that you have to be a web designer and know all about computer codes and complicated html stuff. I didn't. With Solo Build It! it's easy and they have the tools in place to help you build pages and teach you how to create a successful web site. Want more information? Just click on Powered by Solo Build It! and watch a cool video that will explain everything. I know you'll get excited like I did.
---
Return to Home Page from Stencil Supplies Checklist.
Return to How To Stencil from Stencil Supplies Checklist.