Stenciling Resources
This is an art or craft that requires stuff. So, here are the stenciling resources you'll need to get started and keep you going!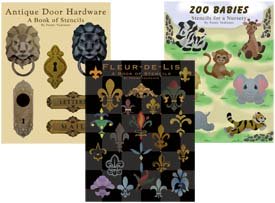 We are thrilled to introduce our selection of Stencil Designs. Instant gratification at its finest! You don't need a special printer - these stenciling patterns are specially formatted to print from your home computer on standard letter sized paper. Once downloaded, you will have your complete stencil booklet with patterns and instructions. Just click, buy and print!
If you'd rather get your Stencil Pattern Books in Print, then visit our Printer's Book Shop for the same designs in book format that will be mailed to you. You'll find all of the stencils used as examples throughout this site.


Mister Art.com is one of the best stenciling resources because they have a dedicated department for stencil supplies. Here you'll find stencil films, paints, books and tools plus and extensive selection of applicators including brushes and sponges.


In these times, we're always looking for a bargain. CreateForLess has a good selection of plastic palettes for you to choose. Plus you'll find Delta Ceramacoat and DecoArt Paints, stencil brushes and applicators, a few pre-cut stencil designs, and many other items on your stencil supplies checklist.

Joann.com carries a variety of high quality acrylic paints, great for stenciling. You'll find brands like Delta Ceramacoat, Folk Art, Americana and DecoArt. They also provide paint applicators and many other arts and crafts and stencil supplies.

Royal Design Studio has a beautiful line of decorative stencils. You'll even love the web site. It's packed with great how to information and inspiration rooms that have been transformed with stencils. But it doesn't stop there. They also carry many of the stencil supplies that you will need.


If it's pre-cut stencil designs that you are looking for, then may I suggest Stencil Ease. They have decorative, alphabet and industrial designs or they can custom make one for you. You'll also find Americana Acrylic Paints and other stencil supplies.


Hey! Don't forget that I (and everyone else) want to see what you have done with your Stencils. Just click on Stenciling Projects to get your masterpiece showcased here on this web site. Won't that be exciting! Or if you have any questions or want to share information join in on the Stencil Blog. Well, I hope to hear from you soon.
Happy Stenciling,



Would you like to build a web site like this one and turn a passion into a business? Well, if I did it, you can too! Don't think that you have to be a web designer and know all about computer codes. With Solo Build It! it's easy. They have the tools to help you create a successful web site. Want more information? Just click on Powered by Solo Build It! and watch a cool video that will explain everything. I know you'll get excited like I did.
---
Return to Home Page from Stenciling Resources.
Return to Stencil Supplies from Stenciling Resources.