So You Want to Paint Stencil s?
As you discover how to paint stencil s, you will enjoy the pleasure of creating your very own art! It's easy and exciting. Plus, don't miss the video at the bottom of this page!
In order to make the most of your painting time, take a moment to become familiar with your stencil. Can it be completed as a one color image or do you need several colors? Is it a single layer stencil or does it have multiple overlays? Is it a pre-cut stencil ready to have paint applied to it or is it a cut and paint stencil where you need to cut out the openings? Follow these links for the scoop on different stencil types: Pre-Cut Stencil, Cut and Paint Stencil, or Stencil Patterns.


Practice and Experiment
If you are new to stenciling I would recommend practicing on a thick sheet of paper before working on your wall or T-Shirt. This will help you develop a few techniques and make you aware of what can go wrong (Do you know Murphy's Law: what can go wrong will go wrong). Do this and when you get to your real project you'll be a pro.
Choosing the Right Paint Stencil Colors
The most important part of getting your stencil to look right is color. Think about this carefully. What is going to match your background color? If you have a multi-color image, which colors will work well together and stand out from the background color?
If you are using a Multiple Overlay Stencil, be aware of what items come in contact with each other. Make sure that touching islands (stencil openings) don't use the same color causing them to blend together. You want each item to be clearly visible yet sometimes just a subtle difference is best. There is no fool proof rule of thumb that I can give you so you will just have to put your own eye to it and find what pleases you. Once you have your color choices, label the stencil overlays with the names of the paint.

For more information on choosing the right colors for your paint stencil project click here. I put in an extensive article on this subject because it's so important. I added several illustrations of just how wrong things can go when you make bad color choices.


Multiple Overlay Stencils
If you are working with a Multiple Overlay stencil, get familiar with the design. Multiple Overlay Stencils use registration marks to align your stencil overlays and build the image. Get to know how they work and of course read all instructions that come with your stencil. For more information on Multiple Overlay Stencils go to Stencil Patterns.

The time spent practicing and experimenting will help you develop your plan and skills, and the job will go much more smoothly. When you feel comfortable with your stencil, then it's time to get your surface in shape.
Preparing the Surface
Make sure the surface that you are stenciling onto is ready. It's best to have a surface that is as smooth as possible. For instance, a flat wall without any or much texture is going to produce an image with cleaner lines than a brick wall. Make sure any cracks or holes have been filled in and smoothed down.
If the surface needs painting make sure you allow it to dry thoroughly before applying the stencil image. A flat base paint is best. Stencil paint will adhere more readily to a flat versus a semi- or high-gloss finish. If your stencil paints are not sticking to the surface you may need to sand the area lightly until you can achieve better results.
Preparations for A Cut and Paint Stencil
A Cut and Paint Stencil requires you to cut the openings where color is applied. However, for the extra work, they provide some great rewards.
A cut and paint stencil design can be reduced or enlarged to fit almost any project size. This is a big deal. Let's say you like a Plastic Pre-Cut Stencil and it comes in two sizes -small at 2' and large at 4'- and the area you have for an image is 1' then the plastic stencil will not work for you. However, you can take a cut-and-paint stencil (with each of the overlays) to a copy machine and resize it to whatever your project area requires. Flexibility is great!
Also, a cut and paint stencil is less expensive. You're not paying for the manufacture, warehousing and shipping of a product. If you can find down-loadable stencil designs you can have your stencil immediately and no delay to your project.
Well on to the one disadvantage of a cut and paint stencil: Cutting Your Stencil.
If your stencils are in a book, I would recommend making a copy of each stencil overlay for the project you have chosen. By using these copies to produce your picture, your book and originals are preserved for future use. When you make copies, don't forget that you can reduce or enlarge the size to fit the area you want to place the picture.
Using a craft-knife cut out the openings or islands on the stencil. Make sure your blade is sharp at all times. Dull blades may cause the paper stencil to tear. The goal is to cut along each line only once with a firm, smooth motion. With your free hand, hold the stencil firmly and rotate the stencil so that you are always cutting at a comfortable angle. When cutting past a thin bridge area carefully use a firm finger to hold down the paper. Always keep your fingers well away from where you are cutting. If you are working with a multiple overlay stencil don't forget to cut out the registration holes, which will be used for the alignment of the stencil overlays.
These instructions are assuming that you are using a paper stencil. For instructions on how to preserve your paper stencil so that it can be used again and again please go to Stencil Making Design Tips for Long-Term Use.


Line Up and Secure Your Stencil
Determine the area where you want your picture using the level and ruler or tape measure if your area is large. If you are stenciling a wall or very large area, begin in the least noticeable corner. Tape your stencil to the wall or object to be stenciled using a low-tack tape across each corner. If you are stenciling on a flat horizontal surface, you may find it easier to use weights instead of tape. Another option for securing your stencil is to spray the back side with spray adhesive (follow the directions for the product you are using). Always test your surface and decide which method works best for you.
Aligning a Multiple Overlay Stencil
If you are working with a multiple overlay stencil, align the first overlay as described above and use a pencil to mark the registration holes (they can be erased when your project is finished). Hint: to avoid marking the surface, place pieces of low-tack tape on the surface area of the registration holes and place the marks on the tape.
It's time! Time to paint stencil! You should know all there is to know about your stencil (like: Is it a one color paint stencil or do you need several colors?). You should have it in place and secure right where you want your image (centered or off to one side?). Well, you get the idea. Enough of all this - let's get to the Stencil Painting!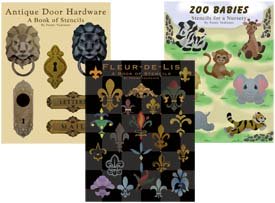 In an effort to bring you a complete solution for all of your stenciling, we now have a catalog for you to browse a large variety of designs that you can open at your computer and print or save. Just check out our Stencils Catalog for your next project.
If you'd rather get your Stencil Pattern Books in Print (like these), then visit our Printer's Book Shop for a large variety of stencil collections. You'll find all of the stencil designs used as samples throughout this site.
Oh by the way, just in case you're still trying to find paint and other stenciling supplies, here are a few of my favorite haunts and other places to get information and help.


MisterArt.com is a great place for all of your arts and crafts needs plus they have a dedicated section for stenciling.

Good quality paints are a must in stenciling. Thin, watery colors will cause running and smudging. So, invest in good paints to insure that your project is successful.
Joann.com has a fantastic line of quality paints like Delta Ceramacoat, Folk Art, Americana and DecoArt Acrylic Paints. Plus you'll find fabric paints and applicators.

In these times, we're always looking for a bargain. CreateForLess has Delta Ceramacoat and DecoArt Paints, stencil brushes and applicators, and a few pre-cut stencil designs.

Looking for more information? Amazon.com has some suggestions for you below on the subject of stencils and I've provided a Google Search Option for your convenience.

Now, here's that great video I promised you with a few helpful hints and tips on the Basic Stenciling Techniques. Enjoy!
Would you like to build a web site like this one and turn a passion into a business? Well, if I did it, you can too. Don't think that you have to be a web designer and know all about computer codes and complicated html stuff. I didn't. With Solo Build It! it's easy and they have the tools in place to help you build pages and teach you how to create a successful web site. Want more information? Just click on Powered by Solo Build It! and watch a cool video that will explain everything. I know you'll get excited like I did.
---
Return to Home Page from How To Paint Stencil s.