Halloween Craft Ideas
Looking for Halloween craft ideas that are fun and practical? Well, check out these cute place mats that were made using free Halloween stencils.
---
These cute place mats will be great to keep the kids entertained all month at meal times but they're also great for a decoration to put under the candy bowl. I'm sure you can think of a thousand other ways to use these too!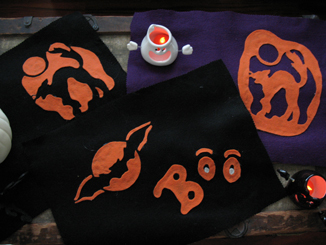 I was looking for a way to decorate for Halloween that was practical (not just another candle holder or knick-knack) when I eyed the place mats on the dining room table and thought to myself, "Why not replace those with some cute Halloween themed place mats that can be used all month long?" And here's what happened next...
I started rummaging through the house for anything that I could use to construct the place mats. I found some felt, so that was good. Then I printed up some of the Free Halloween Stencils found on this web site.
Using Free Pumpkin Carving Stencils (where you'll find the cat) are good for making decorations like these and many others.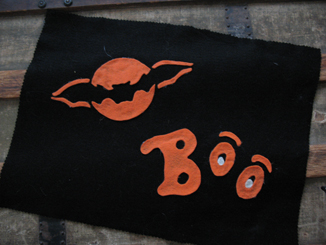 After printing the stencils, I cut out the openings just like I would if I were going to paint with them but instead I traced the patterns onto the orange felt and cut out the pieces.
Now remember, you're not going to be able to wash off the tracings so make the outlines on the back of the felt and then turn them over to attach to the place mat. That's real important if you're using letters (like "Boo") because if you trace them or draw them like you read them, when you turn it over it will be backwards. So, consider the pattern you are using and if it has to face in one direction, flip it over to trace or trace on the back of the fabric.
You can find the bat stencil and a real cool Halloween craft idea at Pumpkin Crafts. If you believe that Halloween is not Halloween unless you have a Jack-O-Lantern on the porch but hate the mess you'll love to see the bat carved into a plastic craft pumpkin. No mess and you can pack it away and put it out year after year.
When I had all the pieces cut out. I put the stencil on the place mat background and lined it up where I wanted the image. I re-built the picture by putting each piece in place just like a puzzle and carefully removed the stencil.
I used the hot glue gun to squeeze a little glue in the middle of each piece to keep them in place, then lifting all the edges ran a small line of glue and pressing down to secure to the place mat. Be careful not to burn yourself!
If you're handy with a needle and thread, I think that stitching the edges with a loop stitch would add a nice touch.
I cut out the pieces for the Cat in Moonlight above by carefully clipping along the lines of the tracing to create an opening and then cutting around each piece. This way the remaining felt can be used like a silhouette on another place mat. This is called a stencil mask and actually it's just a duplicate of the stencil itself (only in felt). Doing this with stencils can double your efforts - with one piece of fabric, you'd get two designs cut out for place mats.
Well, there's more Halloween craft ideas around here and don't forget that Christmas is on it's way too. But let's not get ahead of ourselves (as we crafters tend to do). First, check out all the other Halloween Crafts and I bet you'll be pleasantly surprised at what you can do with a few stencils.
Happy Halloween,
Penny
---
Return to Holiday Crafts from Halloween Craft Ideas.