Making Halloween Tin Can Halloween Lanterns
It's time again to raid the recycle bin! Pull out all the tin cans and clean 'em out good because we're gonna use them in some Halloween decorations.

Halloween Decorations On The Cheap!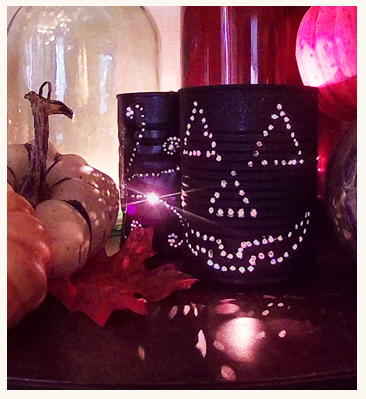 Let's face it… who wants to spend good money on decorations you only put out for a couple of weeks of the year? Plus, it's loads of fun to make your own decorations.
I know you're too busy! Well, slow down, take a deep breath, relax and do some crafts. It's a great way to distress and enjoy the approaching cooler weather and festivities! Besides, this is real easy!
Ok! You got some cans and they are clean and dry, right? Next step is to spray paint them black, inside and out. Always spray paint in a well-ventilated area. Once, when I was young I spray painted something red in a closed garage and almost passed out when I sneezed into a tissue and it was covered in bright red. I'm just saying, you'll breathe the stuff in and that's not good so find an open space or room for the spray to dissipate. Be safe!
How to Carve A Jack-O-Lantern Stencil In A Can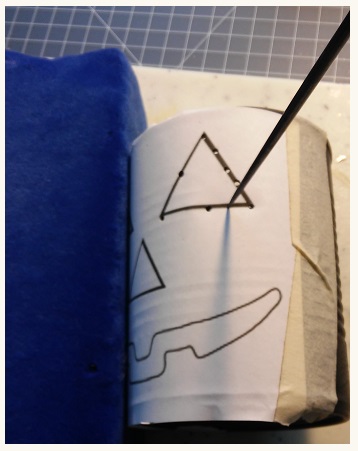 Below you'll find a pattern of a Jack-O-Lantern stencil. Print that out so that it fits across the height of the can. Actually, you may want to print it a little smaller (I'll explain that a little later).
Tape the paper pattern to the can on either side like shown here. I told you to print the pattern a little smaller than the can because if the pattern is too low on the can, a tea light candle will not glow through the toothy mouth.
Using a punch tool and a hammer, carefully punch holes along the pattern so that a clear opening is made. To keep the can from rolling around, I put it up against a brick I had covered with a soft fabric for yoga (I'm glad to finally get to use it!). You could use heavy books or anything else to keep it stable.
Punch in as many holes as you are comfortable with. There are no rules here. For example, for the eyes, I put a hole at each corner, one in the middle of the line and one more between those (making a total of five holes along one line in the triangle of each eye). Be aware the some cans have ridge and the punch may tend to slide around to the bottom of them. If so just move on and again, be careful.
I used the term Tin Can Halloween Lanterns which maybe has you thinking that a candle is the light on the inside. Well, sure, but there are other safer options. I used a string of LED Christmas lights in the cans above. I arranged one string from the plug behind the table into the back can and over into the Halloween Jack-O-Lantern Tin Can. The LED lights don't produce heat and after all they shouldn't produce flames, right? And as you can see in the picture, it looks pretty good. You can even arrange the light to show up best for the placement of the lantern. And let's face it…if you have little ones around, you don't want candles!

Free Jack-O-Lantern Stencil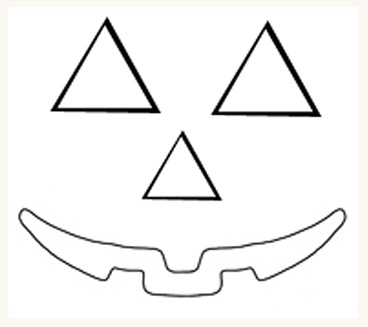 Oh! Right! Here's the Free Jack-O-Lantern Face Stencil for you to print and use.
Well, come back soon for more great fun and after all…Christmas is just around the corner!
Happy Haunting,
Penny

For a similar project (like the image below), go to Pumpkin Decorating Ideas!