Simple Halloween Crafts
Here's some really cute, quick and simple Halloween crafts for decorating!
This is a little twist on the idea of the candle inside the paper bag: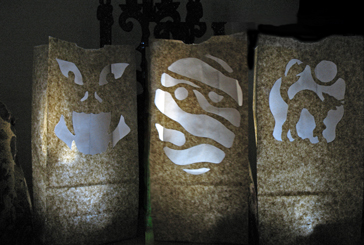 You've all seen those little bags lining a driveway of walk leading to the house. Well, I never liked the idea of an open flame in abag. Just seemed a little dangerous. But I liked the lighted bag idea so I set to thinking and this is what I came up with: LED lights and glow sticks inside the bag.
Of course,cutting a few stencil patterns into the front part of the bag helps identify the Halloween theme. You can find these designs here at Free Pumpkin Patterns (the Vampire and Mummy) and Free Pumpkin Carving Stencils (the cat and many others).
The best part is that these are just cheap old brown paper bags. I paid $1.65 for a pack of 50. The LED light was a little more ($4.00) but I can use it for many other reasons like when the lights go out!
You can find the glow sticks at this time of year with the Halloween stuff. They are great for keeping the kids safe and visible by glowing in the dark.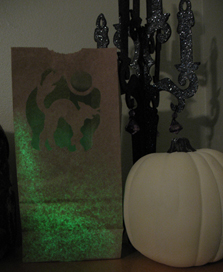 OK! So how was this done? It was easy. I printed the patterns onto paper and cut out the openings using a craft knife. Then I slid a piece of cardboard inside the bag to protect the back of the bag from being cut. I put my stencil on the front of the bag and traced the pattern, then cut out the openings. And that's it!
Of course, there are so many other variations on this idea. Before cutting out the design, you could paint the bags black or orange for a little extra color. If you're willing to try some extra painting, why not brush on a few red smears from the Vampire's teeth or along the Mummy's wrappings. You could put an extra glow of yellow around the moon behind the cat.
As with this simple Halloween craft and all the others, it's just the start to the creative spin you can add to it.
By the way, it was a little hard to get a good picture of the cat with the green glow light. I hope you forgive me and try this for yourself because in real life it's cool.
And hey! Don't forget that I (and everyone else) want to see what you have done with your stenciling art. Just click on Stenciling Projects to get your masterpiece showcased here on this web site. Won't that be exciting! Or if you have any questions or want to share information join in on the Stencil Blog. Well, I hope to hear from you soon.
Happy Stenciling,
Penny

---
Return to Home Page from Simple Halloween Crafts.
---
Return to Halloween Crafts from Simple Halloween Crafts.