The Stenciling Pattern!
If you seek information about a stenciling pattern, you've found it! Just scroll down for for everything from making your own stencil to unique designs we have and even a few free stencils to print.


I guess I don't need to mention how passionate I am about stencils. They are the best guide to creating arts and crafts. On this page I want to share with you every aspect of stenciling art which means ideas for making your own stencil, getting ideas of what you can do with stencils and even a few free stencils.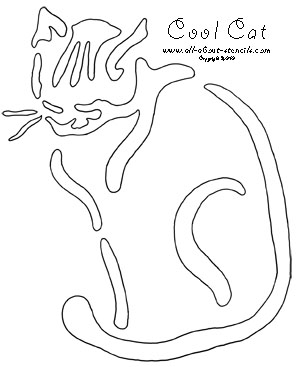 Let's start with a few printable stencils. On this web site you'll find free stencils to print in any style you can imagine. That's because it's my mission to get you motivated to creating art with stencils.
The Cool Cat is from our Cool Stencils Collection. But if you are a feline fanatic don't miss the Cat Stencils!
If you are looking for some unique stenciling pattern designs this site has that for you too. The Stencil Designs Store has many books of related designs so you can choose to use only one of the stencils (maybe for Stencil Art Prints) or use all of the stencils (maybe in Stencil Wall Murals). Also, did I mention that since the stencils are downloadable you can get them right now (no waiting on the mailman or driving to the craft supply store). Trust me, you'll love the convenience. I have a few samples of what we have to offer below.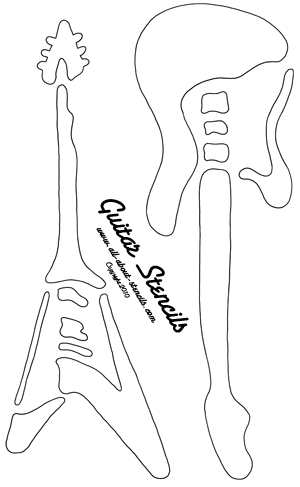 You'll find some incredible ideas for creating stenciling art around this web site. If you think that stencils are just for stenciling wall borders think again. Just check out our section on Decorating with Stencils to get a glimpse of what you can accomplish with stencils.
Maybe you want to make your own stenciling pattern. That's great and I have the information you need for that at How To Make A Stencil. You'll get information about the different stencil types (single layer and multi overlay) and how to break down your selected image into stencil form.
Well, here are those books of stencils that I promised you. This is just a sample of the design books that we offer in the Stencils Store.

Each book will come to you as a down-loadable pdf file in your e-mail. Just check your e-mail after purchase for the link to connect to your file and print or save. It's that easy!
All designs can be adjusted to fit your project size. Instructions are included. Pages are 8.5" x 11".
If you'd rather get your Stencil Books in Print, just click the blue button below each book.
Click on any book cover image for project ideas using those stenciling pattern designs.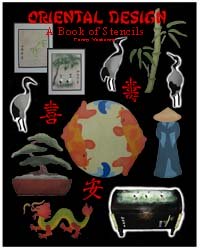 Oriental Stencils: A Book of Designs
This collection includes 16 designs- Chinese Dragon, Bamboo, Oriental Figure with Coolie Hat, Ying Yang Koi Stencils, Bonsai Tree and 3 Cranes plus 10 Chinese Symbols (Eternity, Friendship, Happiness, Harmony, Long Life, Peace, Prosperity, Tranquility, Truth and Dragon.
This purchase is of a PDF file with 40 pages.
Price: $9.95
To get this book in print for just $19.95 click here: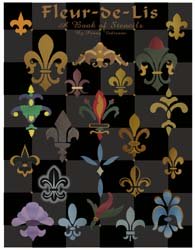 Fleur de lis: Book of Stencils
This collection includes 22 designs. Ten are easy single overlay. Six have 2 overlays and six have 3 overlays.
This purchase is of a PDF file which has 63 pages.
Price: $9.95
To get this book in print for just $19.95 click here: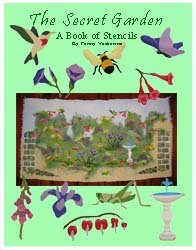 The Secret Garden
Create your own private garden retreat. This collection includes 12 designs-fountain, bleeding heart, iris, bee, butterfly, foxglove, grasshopper, hummingbird, trumpet flower, morning glory, stone wall and stone path.
This purchase is of a PDF file with 51 pages.
Price: $9.95
To get this book in print for just $19.95 click here: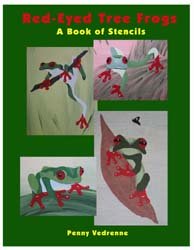 Red-Eyed Tree Frogs
This book contains 4 cute Red-Eyed Tree Frogs for you to paint in your next project. Bring a little of the rain forest to your home. There are 37 pages in this pdf file which includes the stencils of all 4 frogs (each has 5 overlays) and complete instructions. I thought that since you seem to like outdoor wildlife like koi stencils that these little frogs might warm your heart too.
This purchase is of a PDF file with 36 pages.
Price: $9.95
To get this book in print for just $19.95 click here:
Hey! Don't forget that I (and everyone else) want to see what you have done with your Stenciling Pattern. Just click on Stenciling Projects to get your masterpiece showcased here on this web site. Won't that be exciting! Or if you have any questions or want to share information join in on the Stencil Blog. Well, I hope to hear from you soon.
Happy Stenciling,



Would you like to build a web site like this one and turn a passion into a business? Well, if I did it, you can too! Don't think that you have to be a web designer and know all about computer codes. With Solo Build It! it's easy. They have the tools to help you create a successful web site. Want more information? Just click on Powered by Solo Build It! and watch a cool video that will explain everything. I know you'll get excited like I did.
---
Return to Home Page from Stenciling Pattern.
Return to Stencil Designs from Stenciling Pattern.