Fine Art Stenciling!
Fine art stenciling! The question is: Do you want to create a new fine art piece or paint a knock off of one of the Masters?


Anyone can create art with stencils because a stencil is designed to help us put an image in place and insuring that it will be the right size and proportion. It's up to you to take it from there!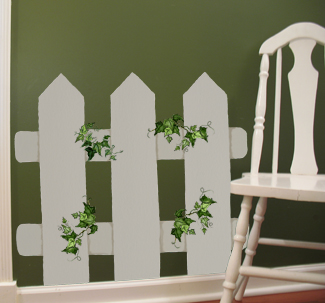 Here are some of the ways to create fine art with stencils and below you'll find out how to make your own stencil in case your mission is to reproduce a masterpiece. Plus our exclusive printable stencils in book format.
Have you ever been fooled into thinking something was real when it was actually just a painting. That's Trompe L'oeil. It can be anything from a scene covering a whole wall (see also stencil wall murals) to a tiny ant painted on a table top. It's a very fun and exciting way to create with fine art stenciling.
You can create this effect easily with trompe loeil stencils. Follow the link to see how two old doors were transformed with a little white paint and a couple of lion head door knockers (also available in a book below).
Let's face it art is in the eye of the beholder. To each his own, right? Well, no matter what your style there is a fine art stenciling pattern out there that will appeal to you. Let's just say you're heavy into street art. Then graffiti art stencils would be your thing. When you're finished there check out the cool stencils.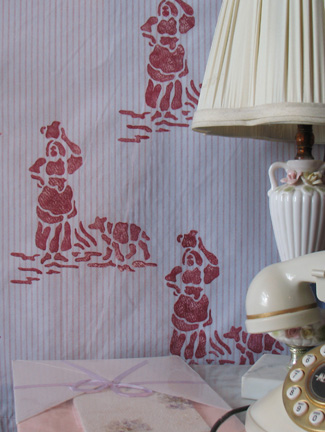 Toile is very rare as a stencil design because of its ornate detail. However, this pattern was painted with one of our many free printable stencils which can be found at Toile stencils. It was painted on a piece of ticking fabric for this window shade. Two paint colors were used - Cherry Cobbler was the first coat and stenciled in completely then a baby pink was lightly brushed on for some highlights.
For more fine art stenciling patterns that fall into a class of their own, visit Stencil Designs where you'll also find free stencils to print of the Art Nouveau Stencil and the Art Deco Stencil.

Let's say your idea of fine art stenciling is finding a way to reproduce a masterpiece you saw in a museum or a magazine. Here's how to create a photo stencil from a picture.
Creating a fine art print with stencils can be accomplished three basic ways. OK there are probably one hundred ways or more but let's just cover these basic plans and then you can adjust them to fit in with exactly what you are trying to accomplish.


First, if you want to create art prints for framing but aren't quite comfortable enough with splashing a brush through paint and whipping out a Monet then stencils are to the rescue. Find the Stencil Designs (click here for great stencils) that will fit in with your decor and paint away.
This is the easiest way to fine art stenciling but for many more tips and hints check out this article on Stencil Art Prints where you'll find discussions on choosing a style and working with colors.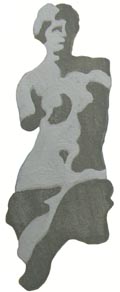 Let's say that you're interested in re-creating a Master's Work of Art and first you want to create a stencil to at least get your shapes and sizes just where you want. No problems - that's what stencils are for!
First, take a copy of your chosen art piece and get it sized to fit your project area. You can do this on a copy machine or if you need it to be very large take it to a Document Printer and they can make it very large with one of the many machines they have on hand. Of course, if your artwork is Copyrighted they may not be willing to work with it so consider that.
Once you have your art the size you want to create it, cover with a piece of tracing paper and outline the edges of the main objects.
Now it gets a little more detailed because you need to decide if you want to create a single overly stencil and then add your own details or if you want more layers to help you with the details. This will depend on your chosen art piece and how comfortable you feel with hand painting in details.
There are several extensive articles about this at How to Make a Stencil which include details on making each kind of stencil with tips on how to decide what's going to work best for you.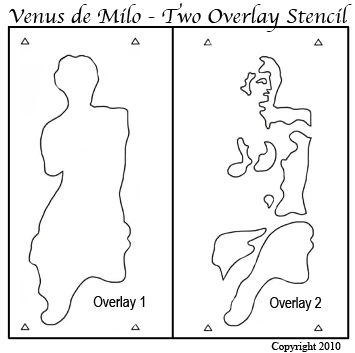 Just to give you a hand up so that you can see how I decided to break down the Venus de Milo, here's the two layer stencil that I designed during a fine art stenciling project. Now you get the idea.
A multi layer stencil is great for adding more details and having them all lined up perfectly. Notice the registration marks in the corners of each layer. This is how the stencils line up and guide you to adding paint over paint in just the right place. There is more detail about Registration Marks at Making Stencils along with more hints and tips for creating a multi layer stencil from art.
We are thrilled to introduce these downloadable and Printable Stencils.
Instant gratification at its finest! You don't need a special printer - these designs are specially formatted to print straight from your home computer on standard letter sized paper. Once downloaded, you will have your complete stencil booklet with patterns and instructions. Just click, buy and print!
The books below include the stencils used on this page and a couple of others I thought you might find interesting. Each book will come to you as a down-loadable pdf file in your e-mail. Just check your e-mail after purchase for the link to connect to your file and print or save. It's that easy!
Click on any Book Cover Image for Project Ideas.
All designs can be adjusted to fit your project size. Instructions are included. Pages are 8.5" x 11".
If you'd rather get your Stencil Books in Print, just click the blue button below each book.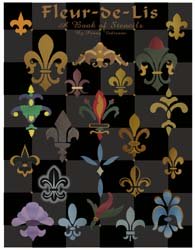 Fleur de lis: Book of Stencils
This collection includes 22 designs. Ten are easy single overlay. Six have 2 overlays and six have 3 overlays.
This purchase is of a PDF file which has 63 pages.
Price: $9.95
To get this Book in Print for just $19.95 click here: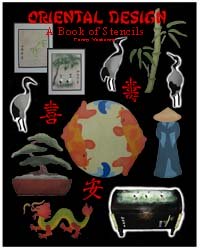 Oriental Designs: A Book of Stencils
This collection includes 16 fine art stenciling designs- Chinese Dragon, Bamboo, Oriental Figure with Coolie Hat, Ying Yang Koi Stencils, Bonsai Tree Stencil and 3 Cranes plus 10 Chinese Symbols (Eternity, Friendship, Happiness, Harmony, Long Life, Peace, Prosperity, Tranquility, Truth and Dragon.
This purchase is of a PDF file with 40 pages.
Price: $9.95
To get this book in print for just $19.95 click here: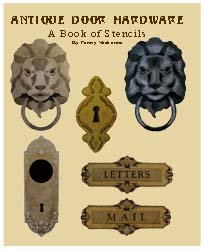 Antique Door Hardware: Trompe Loeil Stencils
This collection includes 5 designs- Lion Head Door Knocker, Key Bow, Lock Plate and Mail Box Plaque (with two word options). These images should add a little fun and even some humor to the doors in your home while they introduce a touch of the past.
This purchase is of a PDF file with 25 pages.
Price: $9.95
To get this Book in Print for just $19.95 click here: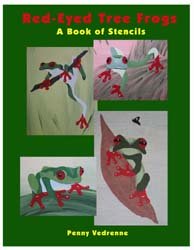 Red-Eyed Tree Frogs
This book contains 4 cute Red-Eyed Tree Frogs for you to paint in your next project. Bring a little of the rain forest to your home. There are 37 pages in this pdf file which includes the stencils of all 4 frogs (each has 5 overlays) and complete instructions.
Price: $9.95
To get this Book in Print for just $19.95 click here: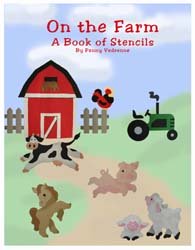 On the Farm
With these stencils you can create the perfect barn yard setting for your little one. This collection includes 9 designs- a Cow, a Chicken, a Pig, a Sheep, a Lamb, a Horse, Fence, a Barn and a Tractor.
This purchase is of a PDF file with 40 pages.
Price: $9.95
To get this Book in Print for just $19.95 click here:
Wine & Spirits: A Book of Stencils
This collection includes 4 fine art stenciling designs - a Wine Glass, a Chianti Bottle, a Wine Bottle and a Bunch of Grapes with Leaves.
This purchase is of a PDF file with 31 pages.
Price: $9.95
To get this book in print for just $19.95 click here:
Hey! Don't forget that I (and everyone else) want to see what you have done with your Fine Art Stenciling. Just click on Stenciling Projects to get your masterpiece showcased here on this web site. Won't that be exciting! Or if you have any questions or want to share information join in on the Stencil Blog. Well, I hope to hear from you soon.
Happy Stenciling,
Penny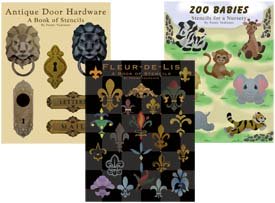 If you'd rather get your Stencil Pattern Books in Print, then visit our Printer's Book Shop for the same designs in book format that will be mailed to you. You'll find all of the stencils used as examples throughout this site.
Would you like to build a web site like this one and turn a passion into a business? Well, if I did it, you can too! Don't think that you have to be a web designer and know all about computer codes. With Solo Build It! it's easy. They have the tools to help you create a successful web site. Want more information? Just click on Powered by Solo Build It! and watch a cool video that will explain everything. I know you'll get excited like I did.
---
Return to Home Page from Fine Art Stenciling.
Return to Stencil Designs from Fine Art Stenciling.