Stenciling Furniture
Here's a Great Trash-To-Treasure Project for you to try! Stenciling Furniture is easy and you can create custom pieces for your home!

Create a Unique Space by Stenciling Furniture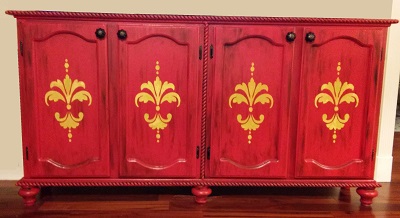 Our friends at Designs From Penny shared this great project with us after using one of our free stencil patterns.  It was an easy trash to treasure re-make of old kitchen cabinets and they have all the details on how you can design furniture just like this.
Just scroll down for the stencil! It's free to print.  If this one doesn't quite fit your style, there are many others on this site so one of them is bound to suit your ideas.
 This is an easy transformation! Once you have the cabinets, it's just a matter of putting them together and decorating. You get to the fun much quicker.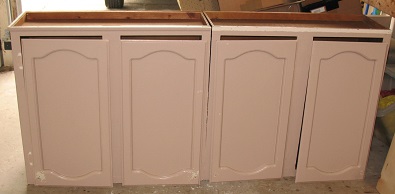 Before Stenciling Furniture 
Here's a peek at the cabinets just after I picked them up.  Yes! They were pink!  And otherwise in pretty good shape but in need of a really good cleaning and a light sanding before paint.  They were solid wood and not the fiberboard found in most cabinets today. 
The doors had been removed but luckily they were with the cabinets so that saved me a little work too.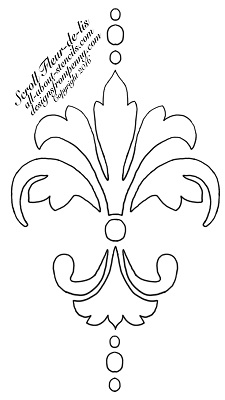 Free Stencil
Here is the Stencil Pattern used on the cabinet.  It's free to print!
Printable Stencils are great because they're Free! Here are a few tips to get the most of them:
You can print a stencil in whatever size your project requires by adjusting the size in your printer settings.  If not, you can copy the image into a word document then mouse click and pull the small squares at each corner to re-size.

You can use the stencil again and again by covering it with a clear sheet of shelf liner or even strips of packing tape before you cut out the pattern.  I recommend covering only the top of the stencil because a slick coating on the bottom encourages paint to smear on your surface.

Once used, let the paint dry on the stencil and then store it flat for future uses.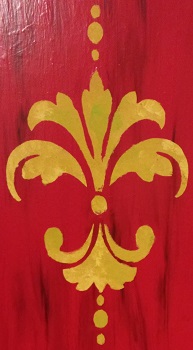 Closer View of the Stencil Pattern
Here is a closer look at the stenciled design. Can you pick out the colors used? They were yellow, mustard and moss green. Using multiple colors adds a lot of interest to the pattern. It gives the appearance of depth and texture.  I like to squeeze out the colors in small pools next to each other on the same pallet and just dab a stencil brush or sponge into each of the colors then dab into the openings of the stencil.
It's amazing what you can do with stencils and what someone else thought was trash!
Take care and keep in touch!
Penny