Thanksgiving Decorations
These Thanksgiving Decorations are unique. You can't buy them in the store but you can create them yourself and it's easy with stencils!




You just got through Halloween and starting to think about Christmas but first there's on more thing...Oh! Thanksgiving! Here's a great and easy way to make your table stand out and even bring a bit of history back to the Holiday.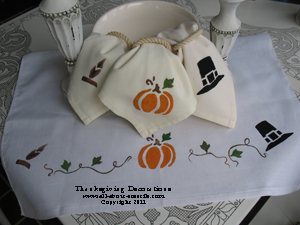 If you love to decorate then the Holidays are special. The truth is that Halloween and Christmas overshadow Thanksgiving in this aspect but it doesn't mean you can't put a few special touches to the table.
It was so easy to paint this table runner and napkins to create special Thanksgiving Decorations. I used the Free Printable Stencils that you can find at Thanksgiving Crafts and Free Pumpkin Stencils on very plain napkins and cloth that I found at a discount store for a real small price.
I would recommend that you use fabric paint which you can buy at any craft supply store. If you need more information about stenciling on fabrics click over to Custom T Shirts where you'll find details on working with any fabrics.
Now when the Thanksgiving Decorations are done and it's time for the Christmas Art Projects make sure to come back because this site is loaded with Free Christmas Stencils. OK - To get you started we have a couple of Printable Christmas Stencils for you below.
We are thrilled to introduce our selection of downloadable and Printable Stencils. Instant gratification at its finest! You don't need a special printer - these designs are specially formatted to print straight from your home computer on standard letter sized paper. Once downloaded, you will have your complete stencil booklet with patterns and instructions. Just click, buy and print!
The books below are Printable Christmas Stencils for when the Thanksgiving Decorations have been put away for next year. Each book will come to you as a downloadable pdf file in your e-mail. Just check your e-mail after purchase for the link to connect to your file and print or save. It's that easy!
All designs can be adjusted to fit your project size. Instructions are included. Pages are 8.5" x 11".
If you'd rather get your Stencil Books in Print, just click the blue button below each book.
Click on any picture for Project Ideas!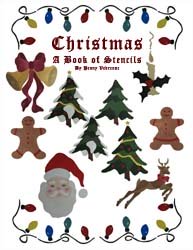 Christmas: A Book of Stencils
This collection includes 9 designs. They are Santa Claus, a Reindeer, a Christmas Tree (with options for decorations), a Candle with Holly Accents, Bells with a Bow, a Gingerbread Boy and Girl, and a String of Lights.
This purchase is of a PDF file which has 42 pages.
Price: $9.95
To get this book in print for just $19.95 click here: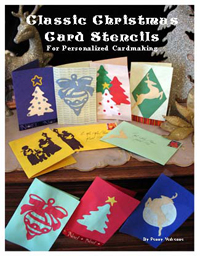 Classic Christmas Cards
Here's a neat little book that I created for Christmas card making. The designs can be used as stencils or masks. You can use them to apply paint or cut out colored paper and paste. Stencils included are the Christmas tree and star, the reindeer, the ornament and bow and of course the carolers. Also, included is a pattern so that you can make matching envelopes. It has complete instructions and many ideas for creating a variety of cards. You will get your book right away because it's a pdf file. Look for an e-mail with the link to download the book right after purchase.
And it's only $4.50.
To get this book in print for just $14.95 click here: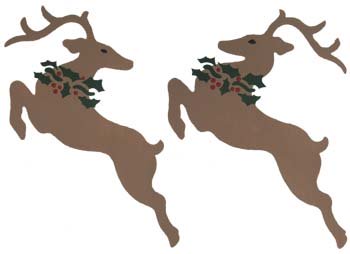 Flying Reindeer Christmas Stencils
Do you like the Reindeer Prints pictured here? They're very easy 2 overlay stencils in a down-loadable pdf file so that you can get your stencils right away (they will be e-mailed to you). Complete instructions included. Click on the picture for project ideas.
Price: $4.00
This stencil book is not available in print.


Hey! Don't forget that I (and everyone else) want to see what you have done with your Thanksgiving Decorations. Just click on Stenciling Projects to get your masterpiece showcased here on this web site. Won't that be exciting! Or if you have any questions or want to share information join in on the Stencil Blog. Well, I hope to hear from you soon.
Happy Stenciling,
Penny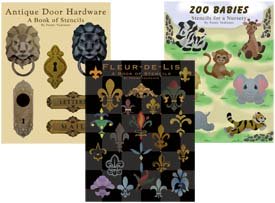 P.S. If you'd rather get your Stencil Pattern Books in Print, then visit our Printer's Book Shop for the same designs in book format that will be mailed to you. You'll find all of the stencils used as examples throughout this site.
Would you like to build a web site like this one and turn a passion into a business? Well, if I did it, you can too! Don't think that you have to be a web designer and know all about computer codes. With Solo Build It! it's easy. They have the tools to help you create a successful web site. Want more information? Just click on Powered by Solo Build It! and watch a cool video that will explain everything. I know you'll get excited like I did.
---
Return to Home Page from Thanksgiving Decorations.
Return to Holiday Crafts from Thanksgiving Decorations.