Tattoo Stencils
Tattoo stencils are like any other stencil. The only difference is where you apply them. So finding the right design is the key. Here are a few free printable stencils and suggestions.




Here are three designs that you might consider for one of your body stencils. Next to each one are some suggestions of other pages on this web site where you can find stencils that might be just what you have in mind.



A popular category of tattoos would be Tribal Stencils. These stencils are typically done with black or one color and represent a culture. The types of Tribal tattoos are very very vast and differ from region to region and have changed over time. Like most tattoos, Tribal tattoos were to communicate something about the individual like rank within the tribe, wealth or tribe affiliation.
I still remember the compliment my mother paid to my high school boyfriend. She said, "At least all of his tattoos are spelled correctly." I'm not really sure how she meant it but the point is that you should always make sure your spelling is right especially before you permanently imprint in into your skin!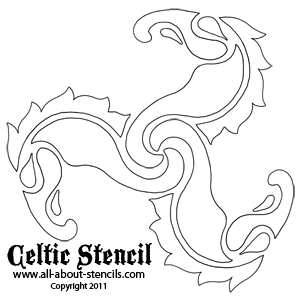 This design comes from the Celtic Stencils. Quite often tattoos are chosen for the connection they lend to an individuals lineage. Also, on this site you will find the Celtic Cross Stencil which could also be used as a tattoo stencil.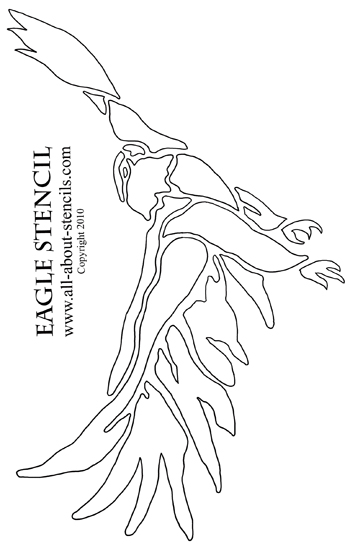 The Eagle Stencil is a popular sign of American Patriotism which has soared since 9-11.
In the right column is a list of some of the other Cool Stencils you can find on this site. You may be surprised to find suitable tattoo stencils in some of the other categories you may not have originally considered. Keep an open mind and browse around.
Hey! Don't forget that I (and everyone else) want to see your stencils. Just click on Stenciling Projects to get your masterpiece showcased here on this web site. Won't that be exciting! Or if you have any questions or want to share information join in on the Stencil Blog. Well, I hope to hear from you soon.
Happy Stenciling,
Penny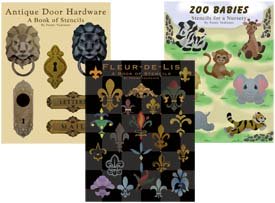 P.S. We are thrilled to introduce our selection of downloadable and Printable Stencils. Instant gratification at its finest! You don't need a special printer - these designs are specially formatted to print from your home computer on standard letter sized paper. Once downloaded, you will have your complete stencil booklet with patterns and instructions. Just click, buy and print!
If you'd rather get your Stencil Pattern Books in Print, then visit our Printer's Book Shop for the same designs in book format that will be mailed to you. You'll find all of the stencils used as examples throughout this site.
Would you like to build a web site like this one and turn a passion into a business? Well, if I did it, you can too! Don't think that you have to be a web designer and know all about computer codes. With Solo Build It! it's easy. They have the tools to help you create a successful web site. Want more information? Just click on Powered by Solo Build It! and watch a cool video that will explain everything. I know you'll get excited like I did.
---
Return to Home Page from Tattoo Stencils.
Return to Body Stencils from Tattoo Stencils.